Iman Flow is quickly emerging as one of the most promising young artists in the international music scene.  With fans spanning across multiple continents, his blend of classical and contemporary influences has captured the imagination of his generation.  And while he has already made a tangible impact on the pop landscape, it is clear to his followers that his story is just getting started. Born and raised in Atlanta, GA, he grew up immersed in everything from hip-hop to rock and roll.  As a young man, he began studying piano, guitar, and drums, developing a genre-crossing sound that would come to define his career.  While his virtuosic talents are undeniable, it is the artist's unique ability to build connections with his audiences that sets him apart from the crowd.  His lyrical ability and melodic prowess are vessels for a powerful story that he alone can tell.  With a steady stream of new releases scheduled for this year and beyond, he is poised to be a major player in modern music for years to come. Iman Flow is currently making waves alongside Changel el Catracho on the single "Enamorado".
Growing up in Atlanta, GA, you were exposed to a wide range of musical genres. How did your hometown influence your musical development?
Iman Flow: As an artist who grew up in Atlanta, Georgia, I was fortunate to be exposed to a rich and diverse musical landscape. I was exposed to. From hip-hop and R&B to gospel, soul, and even country. The vibrant music scene in Atlanta had a profound impact on my musical development. The hustle and drive of Atlanta has a reputation entrepreneurial spirit, which extends to its music industry. It is a privilege to call Atlanta my hometown and carry its musical legacy forward in my own artistic journey.
What inspired you to pursue a career in music, and who were some of your musical influences along the way?
Iman Flow: The decision to pursue a career in music was born out of a deep love for the art form and a desire to connect with others through the universal language of music. I have been fortunate to be influenced by a wide range of artists who have shaped my musical identity. Like, Marco Barrientos, MJ, Dimash, Juan Gabriel and many others.
You're known for your proficiency in multiple instruments, including piano, guitar, and drums. How do these skills contribute to your songwriting and production process?
Iman Flow: Being a Multi-instrumentalist plays a crucial role in my songwriting and production process. Songwriting versatility: allows me to approach songwriting from different perspectives.  I can record and layer various instrument tracks myself, which ensures that my musical vision is faithfully translated during the production stage.
Could you share a memorable moment or experience from your career that had a significant impact on your development as an artist?
Iman Flow: During the festival, I was scheduled to perform on a small stage earlier in the day. The experience was already exciting, being surrounded by talented musicians and an enthusiastic audience. However, the unexpected moment came when a prominent musician from the festival's main stage invited me to join them for a collaboration during their set. It was an incredible honor and an unexpected surprise. I eagerly accepted the invitation, feeling a mix of nerves and exhilaration. Stepping out onto the main stage, alongside a highly respected artist, was an incredible moment that I will never forget.
As an artist, what do you consider to be your greatest strengths?
Iman Flow:  Versatility: One of my greatest strengths is my versatility as an artist. I am comfortable exploring and creating music in various genres and styles. Musical intuition: I have developed a strong sense of musical intuition over the years, which aids me in making creative decisions. Whether it's choosing the right chord progression, exploring melodic variations, or experimenting with different rhythms, my intuition guides me in creating music that feels authentic and engaging.
What do you consider your greatest musical achievement or milestone thus far in your career?
Iman Flow: My greatest musical achievement thus far in my career would be releasing my first 3 singles. All my years I've dedicated my talents to music at church and playing in live audience scenes. However, now I get to take my passion, write songs and give them to the people.
"Enamorado" is your latest single, featuring Changel el Catracho. Can you tell us about the inspiration behind this collaboration and the song itself?
Iman Flow: Enamorado holds a special place in my heart. The inspiration stemmed from a desire to merge different musical styles and cultures, creating a unique and vibrant fusion. The idea for "Enamorado" came to us during a jam session where we started playing around with different melodies and rhythms. We wanted to create a feel-good track that celebrated love, passion, and the joy of being enamored. Drawing from our own experiences and influences, we crafted lyrics that expressed the exhilaration and intensity of falling in love.
What was the most memorable moment or experience you had while working on "Enamorado" with Changel el Catracho?
Iman Flow: One of the most memorable moments I had while working on "Enamorado" with Changel el Catracho was the creative process in the recording studio. From the moment we came together to work on this track, there was an incredible energy and synergy between us. We spent hours collaborating on the melodies, harmonies, and rhythms, experimenting with different ideas and arrangements. We pushed each other creatively, challenged one another to elevate the song's impact, and brought our unique perspectives and musical styles to the table.
What message or emotions do you hope listeners will take away from "Enamorado"?
Iman Flow: I hope to evoke a sense of joy, happiness, and a clean rated celebration of love. The song is meant to make people feel uplifted and inspired, encouraging them to embrace the exhilarating feeling of being enamored. I hope 'Enamorado' creates a positive and lively atmosphere that transcends language and cultural barriers. I want listeners to feel compelled to dance, sing along, and let the music fill them with a sense of fun and fulfillment.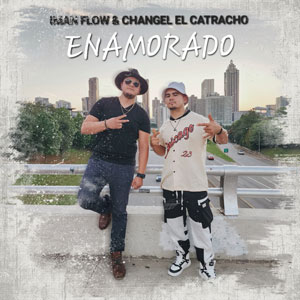 Can you walk us through the creative process of producing "Enamorado," from the initial idea to the final recording?
Iman Flow:  The creative journey began with the initial idea of creating a feel-good, love-themed song that would fuse Latin pop, reggaeton, and contemporary urban sounds. We wanted to capture the infectious energy and joy of being enamored in a way that would resonate with listeners. We dove into the songwriting process, crafting meaningful and catchy lyrics. Once the initial song structure and arrangement were established, we moved into the preproduction phase. After all the elements were recorded, I meticulously mixed the individual tracks. They balanced the levels, refined the EQ, added effects, and ensured that every sound was polished and cohesive.  Each step allowed us to shape the song into its final form to deliver a vibrant track.
What challenges did you encounter during the writing, recording and production of "Enamorado," and how did you overcome them?
Iman Flow: Capturing the right desired vocal performances…
Are there any specific musical elements or techniques in "Enamorado" that you're particularly proud of or excited about?
Iman Flow: The melodies and catchy hooks in the song. Vocal performances. Both Changel el Catracho and I poured our hearts into delivering emotionally charged performances that reflect the excitement and passion of the lyrics.
What are your aspirations and goals for your music career in the coming years?
Iman Flow:  My aspirations in the coming years are centered around growth, exploration, and making a positive impact through my art while keeping the content clean and for all ages to listen to. To expand my reach and connect with a wider audience. I hope to collaborate with other talented artists, producers, and songwriters to create music that resonates with people across different backgrounds and cultures. Building a strong and dedicated fanbase is important to me, as I believe that music has the power to bring people together and inspire change.
Could you give us a sneak peek into any upcoming projects or releases you have in store for your fans?
Iman Flow:  While I can't reveal all the details just yet, I'll give you a few details on my next projects. I've been working diligently on my debut album, which will showcase a collection of songs that reflect my growth as an artist. It will be an intimate and personal journey that delves into a range of emotions and experiences. I've poured my heart and soul into this project, and I can't wait for my fans to immerse themselves in the music.
Additionally, I have some exciting collaborations in the works. I've been lucky enough to connect with incredibly talented artists who I deeply admire. These collaborations will bring a fresh and unique dimension to my music, introducing new sounds and styles that I'm confident my fans will love.
I'm incredibly grateful for the support I've received from fans thus far, and I'm excited to provide them with new music and experiences in the coming months. Keep an eye out for updates on my social media platforms and website for more information on these upcoming projects and releases. Stay tuned!"
As an artist, how do you handle criticism and feedback, and what advice do you have for aspiring musicians dealing with both positive and negative comments?
Iman Flow: Stay open-minded, Embrace growth and improvement, Separate personal value from artistic work.
Collaboration seems to be an important aspect of your work. Are there any other artists you dream of collaborating with in the future?
Iman Flow: There are many incredible artists whom I admire and would love to collaborate with in the near future. While the possibilities are endless, a few dream collaborations come to mind: Dimash, Marco Barrientos, Becky G.
In an age of digital streaming and social media, how do you see the role of visuals, such as music videos, in enhancing the storytelling aspect of your songs?
Iman Flow: Music videos provide a platform for creativity and artistic expression. They provide shareable and visually appealing content that encourages viewers to actively participate in the music experience.
Are there any specific musical genres or styles you haven't explored yet but would like to experiment with in the future?
Iman Flow: Yes! Cumbia, Pop and Ballads
How important is authenticity and staying true to yourself in the music industry?
Iman Flow:  Staying true to oneself is paramount in the music industry. In an industry that can sometimes prioritize trends and commercial success, staying true to yourself allows you to stand out and create a lasting impact.
Finally, what message would you like to convey to your fans and supporters as you continue to grow and evolve as an artist?
Iman Flow: I would like to express my gratitude to all my supporters who have been with me on this incredible journey. Your unwavering support and belief in my music have been a constant source of inspiration. As I continue to grow and evolve as an artist, I am committed to exploring new horizons, pushing the boundaries of my artistry.
My message to you is to embrace your own journey of growth and evolution alongside me. Just as I strive to be true to myself, I encourage you to be true to your unique selves. Embrace your passions, dreams, and individuality, and never be afraid to embark on new paths of self-discovery.
Together, let's celebrate the power of music as a universal language that brings us together, transcending boundaries and uplifting spirits. I want my music to serve as a source of inspiration, comfort, and empowerment for all of you.
OFFICIAL LINKS: https://open.spotify.com/artist/2Q2IwSsZAMi1O1s5B3I5yw
Please follow and like us: