Motivated and inspired by the women of country music that have kicked down the doors of traditional roles and inspired and empowered women across the globe, Hillary Reese has come strong with the single "Wildfires". Speaking to those who have underestimated her in her personal and professional life, "Wildfires" shows her resolve with power-vocals backed by composition and production that will get the listener out of her seat, ready for any challenger. Backed by an award-winning team, "Wildfires" came to fruition with the help of producers Jeff Huskins and Kent Wells. Long-time country music pillars, each has contributed to the artists that will go down in the Country Music Hall of Fame and will be heard for generations to come. Proudly presented by Ablaze Entertainment, "Wildfires" is available for streaming or purchase on all major platforms.
Can you tell us a bit about where you come from and how you got started

?



Hillary Reese: I am from Mississippi. I got my start by putting cover videos on Facebook and going live on that platform. From there I really fell in love with making music and performing.
Did you have any formal training or are you self-taught?



Hillary Reese: I have had vocal lessons and I think they're really important because they have taught me how to use my voice without potentially damaging it, and how to have control over my own voice.
Who were your first and strongest musical influences?
Hillary Reese: I grew up with the radio on 24/7 so I think all genres have influenced my music. I grew up listening to people like Carrie Underwood, Loretta Lynn, and so many other amazing people. I'm definitely blessed that I did have parents who put on all different types of music from different eras as soon as we got into the car.
What do you feel are the key elements in your music that should resonate with listeners?



Hillary Reese: I think the elements of my music that stick out are the more traditional sounds mixed with modern sounds. I love old school country so you'll definitely hear that in my music, but I'm also a huge rock fan so you'll find some of those elements as well.
For most artists, originality is first preceded by a phase of learning and, often, emulating others. What was this like for you? How would you describe your own development as an artist and music maker, and the transition towards your own style?
Hillary Reese: Singing cover songs helped me figure out what music I liked and what music I didn't like, at a young age. I think that really helped me with my transition into creating my own music, because I knew what types of elements and sounds I wanted. The more you create, the more you will figure out what you want to create, so I also created as much as possible.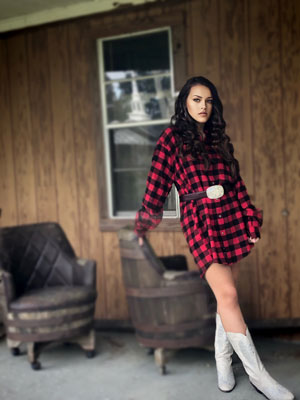 What's your view on the role and function of music as political, cultural, spiritual, and/or social vehicles – and do you try and affront any of these themes in your work, or are you purely interested in music as an expression of technical artistry, personal narrative and entertainment?

Hillary Reese: I believe the music you make should represent who you are. So your beliefs and thoughts are going to come out in your music naturally. Music is so universal and can be used for so many different things that I think it's great when you can connect with people on a different level through your words no matter what the circumstance.
Do you write a song with current musical trends, formulas or listener satisfaction in mind, or do you simply focus on your own personal vision and trust that people will empathize with your sound?



Hillary Reese: Having my music be a representation of my own personal vision is really important to me. I think the only way you're really going to connect with people is if you're authentic and genuine. So if you're just focusing on what's popular instead of what's true to you it can be a really messy situation.
Could you describe your creative processes? How do usually start, and go about shaping ideas into a completed song? Do you usually start with a tune, or a narrative in your head?
Hillary Reese: Songwriting is a very important process to me, and that starts different ways. Each time I write a song it is different but usually I have to put my phone away and just sit down with my piano or guitar, then really focus on what I have to say.
What has been the most difficult thing you've had to endure in your life or music career so far?



Hillary Reese: The hardest part for me in my music career is constantly having to overcome the preconceived notions people have about me because of my age. A lot of people I've met in the music industry will have false ideas of me before they meet me. People think that I won't act mature or professional, or even treat me like I have no idea what I'm doing while talking down to me.
On the contrary, what would you consider a successful, proud or significant point in your life or music career so far?
Hillary Reese: A high point in my music career is honestly just the fact that I get to create music and perform. You'll never see me happier than when I'm on stage or in the studio. I am extremely blessed to be able to get to make music so that's always my favorite part.
Putting aside the accolades or criticisms that fans or the media may afford your releases, what's the one thing about you or your music, you think people may overlook or misinterpret most often?
Hillary Reese: People may misinterpret my personality a little bit. I think a lot of people think I'm super outgoing and have a huge personality, because I'm really comfortable on stage. When in fact, I'm pretty relaxed and a homebody.
If I switched on your media player right now, which artist or song will I most likely hear?



Hillary Reese: You'll probably most likely hear Hardy at the moment because I've been streaming his latest album a lot, but it changes all of the time.
You have already worked with a lot of people, but is there any acclaimed international artist you would like to work with in the near future, and why?



Hillary Reese: I am just a huge fan of country music in general so I would be so blessed if I got to work with anyone from the genre.
With social media having a heavy impact on our lives and the music business in general, how do you handle criticism, haters and/or naysayers in general? Is it something you pay attention to, or simply ignore?
Hillary Reese: I've gotten pretty good at just ignoring the rude comments, but when I was younger it wasn't as easy. I was in the public eye from such a young age that the rude comments have honestly become the least of my concern at this point.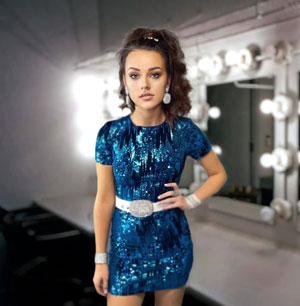 Could you tell us something about how your latest project 'Wildfires' came about and the story or meaning behind it?
Hillary Reese: Wildfires was written 3 years ago and the story behind it is all about gossip and rumors being spread. I think that's something we all go through especially through our teenage years so I knew this would be an important song to put out.
How did you get working with Jeff Huskins and Kent Wells and what has the experience been like for you?



Hillary Reese: I started working with Kent when I was 11 and Jeff a couple of months ago. Both of them are great producers and I'm extremely happy that both of them got to each play a part in this song.
Creative work in studio environment, or interaction with a live audience? Which of these two options excite you most?



Hillary Reese: They're both amazing places to be. There is nothing like live interactions with fans though. Performing live is a magical thing and it's something I will never take for granted.
What's your favorite motto, phrase or piece of advice, you try to live or inspire yourself by

?



Hillary Reese: I love the phrase "If you put God first then everything else seems to fall into place" and I try to remember that every day.
How essential do you think video is in relation to your music? Do you have a video you suggest fans see, to get a better understanding of your persona and craft?

Hillary Reese: You can check out my "When the Smoke Clears Video" and I think that gives a good representation of who I am, in the sense that it is just me at a piano, but it shows that music doesn't always have to be flashy to get the point across. Video can be an amazing.
What do you find most rewarding about what you do? And do you have a specific vision or goal set in your mind that you would like to achieve in the near future?
Hillary Reese: The most rewarding part of what I do is getting to see people singing along when I am on stage, there is no better feeling than that. One thing that would be amazing to accomplish is getting signed, that would be a great honor and I would be extremely blessed if that were to happen.
Follow Hillary Reese on Instagram @ officialhillaryreese
Please follow and like us: