Born in Honolulu, Hawaii. Ryan Lagup was raised in Aiea by his parents, who migrated from the Philippines to Hawaii for a better future. Ryan has an older sister, and though the two are ten years apart, they are very close. In High school Ryan attended Dance classes (Hip-Hop) and did a little bit of modeling at the Vogue International Model & Talent Agency. Ryan awas also a student at the Performing Artist Academy School for the Performing Arts where he studied Acting, Dance & Vocal. Ryan has performed all over the US mainland and throughout Hawaii. He has sung alongside, and opened up for, major acts like Stevie B., Nicole Scherzinger, and Jocelyn Enriquez to name a few. A Famecast Top 5 finalist in Season One, Ryan curiously has also proven to be an able shoe designer.
Can you tell us a little bit about where you come from and how you got started making music?
Ryan Lagup: Paradise. LOL. Hawaii, born and raised on the Hawaiian Island of Oahu.
Have you had formal training or are you self-taught?
Ryan Lagup: Yes, I was a student at the Performing Artist Academy School for the Performing Arts. There I studied In Vocal, Acting and Dance.
Who were your first and strongest musical influences that you can remember while growing up?
Ryan Lagup: It was my aunty Jackie and my father who were the strongest influences. As for artists, Boy II Men, Elvis Presley, Frank Sinatra, Whitney Houston
What do you feel are the key elements in your music that should resonate with listeners?
Ryan Lagup: For this upcoming album, you can tell by listening to the music I got some relationship issues, lol… so I'm sharing them in a upbeat style…
For most artists, originality is first preceded by a phase of learning and, often, emulating others. What was this like for you? How would you describe your own development as an artist and music maker, and the transition towards your own style?
Ryan Lagup: I'm still learning and growing but I think I've grown up a lot when it comes to my writing, I'm more open now and with my own style I've just discovered it believe it or not and I'm having fun with it.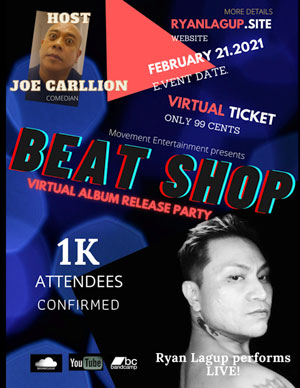 What's your view on the role and function of music as political, cultural, spiritual, and/or social vehicles – and do you affront any of these themes in your work, or are you purely interested in music as an expression of technical artistry, personal narrative and entertainment?
Ryan Lagup: This business is rough. That's why I changed my name I wanted nothing to do with that name being out because of management problems I had in the past it was so politics and I hated it. Now, I'm just having fun and doing me. I have a fan support behind me and I'll keep going as far as it takes me.  I'm under my own label and in control of everything I do now.
Do you specifically write a song with musical trends, formulas or listener satisfaction in mind, or do you focus on your own personal vision and trust that it will be appreciated by an empathetic audience?
Ryan Lagup: A little bit of both. For this album I'm really going on my vibe and what I feel. I am not focused on how it should sound or if I should get with the trend. I'm doing what feels good. That's why my new album has a bit of everything. This album is totally me and I believe this is my sound and I'm hoping it will be appreciated.
Could you describe your creative processes? How do you most often start, and go about shaping ideas into a completed musical piece? Do you usually start with a beat, a narrative in your head, or a melody?
Ryan Lagup: I start mostly on a beat from a producer or a beat I find and lease. Then I basically free style everything. Then I go back and go from there.
What has been the most difficult thing you've had to endure in your musical career, or life, so far? And how did you overcome that event?
Ryan Lagup: My old contract and management. Just evil. I won't mention names but hey look at me, I'm Back! Bitch! I almost quit this whole music thing but I found myself missing it so much. My past team was all users and money hungry and I'm glad I'm out of that situation. I'm good now =)
On the other hand what would you consider a successful, proud or significant point in your career so far?
Ryan Lagup: I'm proud of Famecast definitely opened many doors for me. I'm proud I get to have another chance at this and so proud I have a record label I own and run, legally. The support a swell. I have great fans who stuck by me still since 2007, I love you guys!
Do you feel that your music has given you back just as much as you have put into it over the years, or were you expecting something more, or different?
Ryan Lagup: Yes. Every project is different but yes. I never expect more. But when those unexpected positive comes I'm even more blessed and thankful.
Putting aside the accolades or criticisms that fans or the media may afford your releases, what's the one thing about you or your music, you think people overlook or misinterpret most often?
Ryan Lagup: Well, this is the first album that the lyrics are so explicit and sexual but hey we all have those moods right, I just tend to write it as a song. But people who know me know I'm caring, down to earth and its ok to have a few explicit words right?
Where did the original idea and inspiration behind your single "Talk of the Town" come from, and is there an overarching theme and message you're trying to send out via the project?
Ryan Lagup: Talk of the town is a whole mix of my truth, my experience and friends experiences…lol… basically tired of being the other half of a cheating relationship.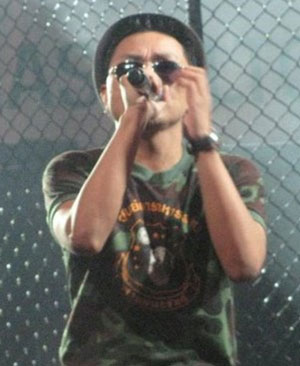 Do you think is it important for fans of your music to understand the real story and message driving each of your songs, or do you think everyone should be free to interpret your songs in their own way?
Ryan Lagup: Watch my upcoming YouTube Documentary. I will explain every song…lol.. but of course everyone is free to interpret their own opinion. But really you will be shocked by the real story behind these songs. Lol…
Could you tell us something about your podcast show Radio Jukebox and the plans you have for 2021?
Ryan Lagup: Here in Hawaii I host a radio program Radio Jukebox on a FM station here and I have a huge following. I left radio but I miss it a lot so I'm going to do online radio, podcasts would be great I thought. I already have hundreds of artists emailing me to feature their music and I except everyone because I know how it is to be in their shoes.
Do you have a favorite motto, phrase or piece of advice, you try to live or inspire yourself by?
Ryan Lagup: Yes, If you've been down before and you think the world is over, believe me pick yourself back up and try again. No matter how many times you fall.
Studio work and music creation, or performing and interacting with a live audience, which do you prefer?
Ryan Lagup: I'm a performer. I love performing and Entertaining a huge crowd, the Bigger the better. Before I go on stage I'm a nervous wreck but when I get on stage I'm totally different, I transform into something else. I shock myself all the time… after my performance I go back to the shy kid, I know it's weird. So to answer your question performing and interacting with an audience is what I love best.
Which important lessons did you learn from your experience on Famecast Talent Competition Season One?
Ryan Lagup: I was in that for 3 months it was hard but I loved it. That experience was the best experience ever. There I learned how to promote and I won the best artist promotion award but I did place in fourth at the finals but hey I was so happy and proud by that time I knew opportunity was coming and I met 4 other artists who I've become good friends with. No one can ever take that away from us we were the first five on the first season, that's awesome!
Do you have a personal favorite track amongst your compositions that has a specific backstory and/or message and meaning very special to you?
Ryan Lagup: On my past album "Carnival" I have a song "Playing with Fire" that song is personal and means a lot to me.
What do you find most rewarding about what you do? And do you have a specific vision or goal set in your mind that you would like to achieve in the near future?
Ryan Lagup: When I get a royalty check every 3 months, LOL! Kidding, for me honestly when my fans message me and tell me how my music makes them feel, is really something I take to heart. What I want to achieve is to be on Billboard Charts, I don't care what number as long as I'm on that chart! That would be just great if I could make that happen. I already debut on iTunes Charts which was amazing but I want Billboard and I want my album to go GOLD or PLATINUM! I'm determined to make that happen. Mahalos (Thank You)
OFFICIAL LINKS:
Website – http://www.ryanlagup.site
Soundcloud – http://www.soundcloud.com/ryanlagup
Spotify – https://open.spotify.com/artist/5Sco38eqO5q26aJ77Tkitv
Facebook – https://www.facebook.com/ryanlagup
YouTube – http://www.youtube.com/ryanlagupofficial
Lagup Shoes – http://www.ryanlagup.site/shoes
iTunes Apple Music – https://music.apple.com/us/artist/ryan-lagup/918390848
Reverbnation – https://www.reverbnation.com/ryanlagupmusic
Virtual Release Party Feb 21st Facebook Livestream – https://www.facebook.com/events/1323418164681054
Album Release Date – February 26th – Available at all music platforms online
The first single "Never Did" debut on iTunes Charts at No.3 – https://www.top-charts.com/songs/reggae/belgium/itunes/2020-W50
Please follow and like us: