Frances Ancheta is a Filipina-American singer-songwriter and acoustic musician from San Francisco. She has garnered international independent and internet radio airplay in the US, Canada, UK, and Spain. Frances performs both original songs and her own interpretation of covers.  Her eleven track album, entitled "Hidden Gems" is now available on all major download platforms.
Can you tell us a bit about where you come from and how you got started

?



Frances Ancheta: I'm from San Francisco, born and raised in the SF Bay Area. My family immigrated to the US from the Philippines. Music was always a big part of my family growing up, as Filipinos greatly appreciate music and dancing as part of the cultural norm. I started learning the piano at 6 and the guitar at 10. Throughout my school years, the performing arts has always been a part of my life—school band, high school theatre and dance productions, college performances. I wrote my first song at age 10, and dabbled in songwriting in my 20s, but I was mostly an instrumental musician who wrote poetry and kept the two as separate interests. It wasn't until my late 20s/early 30s that I combined the music and words together to develop my songwriting. I played in open mikes and local gigs in the Bay Area, and then started recording albums that were played on a few radio stations in the US, Canada, UK, and Spain.
Who were your first and strongest musical influences that you can remember?



Frances Ancheta: As a kid my family exposed me to Filipino folk songs, as well as the pop hits of the 60s and 70s. In terms of my own musical preferences, I loved listening to the radio starting at age 7, this was during the 80s, listening to the different radio stations. One would be playing the Top 40 hits, another soul/R&B, and I especially loved the new wave and modern rock stations at the time who played The Smiths, The Cure, Echo and the Bunnymen, all of those British bands. I also enjoyed some classical music at the time, especially Chopin and Debussy.
If I was to turn on your media player right now, which artists/songs would I hear on your recently played list?
Frances Ancheta: At the moment, songs from Richard Hawley, Pink, Jeff Buckley, Morrissey, Roddy Frame, The Sundays, Cocteau Twins, Inara George, Gregory Porter, Chris von Sneidern.
What do you feel are the key elements in your music that should resonate with listeners?



Frances Ancheta: My overall organic sound, eclectic musical influences, thoughtful and genuine lyrics. Hopefully these elements are conveyed well.
For most artists, originality is first preceded by a phase of learning and, often, emulating others. What was this like for you? How would you describe your own development as an artist and music maker, and the transition towards your own style?



Frances Ancheta: When we create, we can't help but subconsciously emulate a little bit of what influenced us. I loved my favorite British alternative bands so much that I couldn't help but pick up on the chord progressions used in that style of music early on. However, as my musical taste grew and my exposure to different styles came about, like my interest in folk music, world music styles such as flamenco, reggae, and Hawaiian, old standards, and my rediscovery of my love of old school R&B and classic rock 'n roll, all of that gets mixed into the overall sound that I end up creating. Over the years I felt a bit self-conscious at times, not knowing if my overall musical sound would fit in anywhere—but a wise musician told me that each one of us has a unique contribution and space that we fill in the musical universe, and for that reason we need to occupy that unique space being our authentic selves.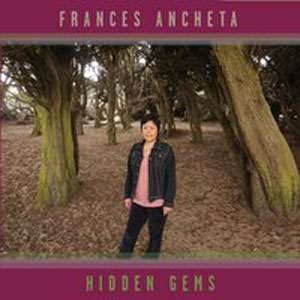 What's your view on the role and function of music as political, cultural and/or social vehicles – and do you try and affront any of these themes in your work, or are you purely interested in music as an expression of technical artistry and entertainment?
Frances Ancheta: Definitely both. My music is definitely an expression of my artistry and of what I am going through and observing about life at the time. If my music ends up helping others and making a difference, then so be it. I am a creative arts/recreation therapist at a hospital as well, and I definitely see how music can heal and unite people of all segments of our society. In addition, I've participated in a few benefit shows/events for good causes, such as the Fiona Project that raises awareness of childhood sexual abuse, and The American Cancer Society.

Do you ever write a song with current musical trends, formulas or listener satisfaction in mind, or do you simply write what comes from your heart?



Frances Ancheta: No, I don't pay attention to current trends when it comes to creating my own music. I simply write what comes from my heart and soul, whatever flows.
Could you describe your creative processes? How do start, and go about shaping ideas into a completed song?
Frances Ancheta: It depends. Sometimes I will play around with different chord progressions and rhythms, or different riffs and fingerstyle patterns. If something really hits me, I will keep repeating it over and over again. Then if I decide that I can do something with the musical idea, I will play around with the melody. Once I come up with a melody then the lyrics usually flow.
What has been the most difficult thing you've had to endure in your career or life so far, and how did you overcome the event?



Frances Ancheta: I was diagnosed with stage 3 breast cancer back in 2017, resulting in 9 months of intensive treatment including a double mastectomy, four rounds of chemotherapy, and five and a half weeks of radiation. The diagnosis was really scary and made me face life and death issues and what really mattered to me. It was a turning point, in that I realized that I loved music and wanted to get back on the saddle and pursue it again. During my treatment it was the love and support of my family and friends, prayer and meditation, daily nature walks, healthy meals and drinking enough water, and most of all music, that helped me through. I ended up writing two albums worth of songs during my treatment, including the songs that I ended up recording for my album Hidden Gems.
What would you consider a successful, proud or significant point in your career so far?
Frances Ancheta: The completion and release of my latest album Hidden Gems. I really believe that everything leading to this album was a big part of my recovery and spiritual awakening. It's my first album in 8 ½ years after surviving the cancer.
Do you handle your own recording, production and mastering work or do you outsource any or all of these processes?
Frances Ancheta: The whole process was intimidating for me, so I definitely needed help and assistance with all of my albums. Gavin Jones produced my first two albums, and Chris von Sneidern produced my latest one. I'm so lucky to have worked with them.
How do you handle criticism, haters and/or naysayers in general? Is it something you pay attention to, or simply ignore?



Frances Ancheta: I've always been sensitive and had thin skin, so I really had to develop a thick skin over the years. After everything I've been through, especially after surviving the cancer treatment and dealing with difficult people and situations, I definitely have more a thick skin. Sometimes comments or criticisms still bother me but not as much as before. I've grown and evolved over the years, and it's easier for me to regroup myself and keep moving forward. I realize that I can't be everyone's cup of tea.
Which aspects of being an independent artist excites you most and which aspects discourages you most?



Frances Ancheta: The most exciting thing is the creative freedom and expression that one has. It's very liberating, and it's very inspiring to see other independent artists doing the same. The most discouraging thing is the amount of hard work and labor that one must put in to advocate for oneself, especially when there are those who try to take advantage of an independent artist's trust legally and financially. The independent music world can be overwhelming when it's difficult to know who to trust and who can provide guidance and support.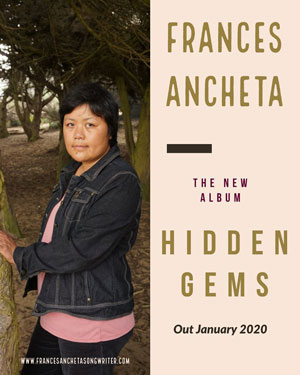 What were your main compositional, performance and/or production challenges when starting out, and how have they changed over time?
Frances Ancheta: One challenge was getting myself acclimated again to the studio environment. I had to re-learn how to sing into the microphone properly, to adjust my singing level and my guitar playing levels accordingly, and to sing/play with confidence, as the microphone picks up every sound and nuance. Another challenge was finding dependable musicians who could work efficiently. Luckily after trial and error, I found my groove with the musicians I ended up working with. And I learned so much working with my producer Chris, I really learned about all of the latest amazing technology to help clean up the vocals and the music tracks—he did an amazingly thorough job recording, mixing, and mastering everything.
Could you tell us something about your full-length album, "Hidden Gems" and what fans can expect to hear?
Frances Ancheta: Hidden Gems is a collection of eleven songs. Each song is a hidden gem, in that they each contain a hidden reflection, inspiration, and/or lesson that I came across during my life journey. Fans can expect to hear my usual thoughtful lyrics and eclectic, mellow vibes, but with more of a full band sound.
Do you have a personal favorite track on "Hidden Gems" that has a specific backstory and/or message and meaning very special to you?



Frances Ancheta: I love all of the songs, they all have meaning for me! There are two tracks in particular. Back Again (You Never Went Away) was my response to Dr. Robert (aka Robert Howard)'s song The Coming of Grace, which I listened to over and over again during my cancer treatment. I loved his work with the Blow Monkeys when I was a tween, and I came across his solo work and loved that song so much, it helped heal me. I let him know via Facebook that I was writing songs again because of that song and he let me know that he really appreciated it. The other song, In the Rain, was written after I met the sad clown Puddles Pity Party (aka Mike Geier) after one of his performances in San Francisco. Meeting him was one of the most soulful and loving encounters in my life, and I thanked him for cheering me up during my cancer treatment, as I watched him that summer on America's got Talent. He told me to keep going. I let him know that I was writing this song for him, and when he heard it via Facebook, he responded "That's beautiful!"
Creative work in studio environment, or interaction with a live audience? Which of these two do you ultimately prefer and why?



Frances Ancheta: I enjoy both in different ways, but ultimately I enjoy interaction with a live audience. I love my playing my gigs—I feel such a joyful release performing my songs and putting myself out there. When I put myself out there, it makes others feel at ease to be themselves too, and I've ended up meeting so many cool people and made so many nice connections.
What's your favorite motto, phrase or piece of advice, you try to live or inspire yourself by

?



Frances Ancheta: To count my blessings and to be thankful for what I have. I try to find at least one good thing to be grateful for each day.
What do you find most rewarding about what you do?

Frances Ancheta: By being my authentic self through my music, I am able to help and inspire others.
Do you have a specific vision or goal that you would like to achieve in 2020?
Frances Ancheta: To continue to survive, create, and get my music out there to do good, as my contribution to the universe!
OFFICIAL LINKS: WEBSITE – FACEBOOK – YOUTUBE – INSTAGRAM – SPOTIFY – CDBABY
Please follow and like us: