LaQuawn Smith, professionally known as "Curiousity", was born and raised on the tough Southside streets of Youngstown, Ohio. He is the youngest of 6 siblings and has endured hardships in life that most could never imagine. Coming from having nothing, he was drawn to the streets and lure of fast money to relieve his meager living conditions, and to make his mark in the neighborhood. This led a to a series of events that would set the stage for his decision to pursue music 100% At 17 years old, living on the cusp of life and death on a daily basis, he nearly lost his life on several occasions, and nearly lost his freedom for 30 Years, ultimately serving a little more than 1 year and before having charges dropped.
The one sure thing he's always had to keep him going was his music. A passionate MC, Curiousity spills the things he's seen and done onto his notepad, and paints vivid pictures of what it truly means to live and survive in the hood.
His musical journey may seem like it's just beginning, but he has already amassed a full catalog of music ready to release to the world. His delivery method…Truth in advertising! You get what you see. No industry smoke and mirrors. No fake faced. No fake gang-banging or affiliations. Just a man on a mission to spread his word, his truth, and a genuine sound the world needs to hear.
Recently joining the .400 Club Music team, him and label head "QB aka Mr Casualty" (also his 1st Cousin), are set on a path to shake up the industry, and flood the market with a new Midwest sound, chocked full of dope beats, dope rhymes, originality, and reality. Buckle up, enjoy the ride, and support Curiousity and the .400 Club Music movement!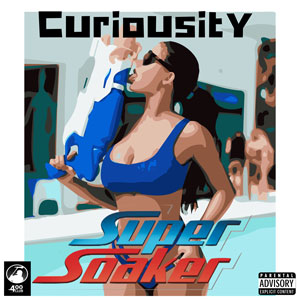 Q. So Curiousity, Where are you from?
Curiousity:   I'm from the Southside of Youngstown Ohio. Born and Bred.
Q. At what age did you start rapping?
Curiousity:  Believe it or not, I started at 3 years old!  As soon as I could formulate sentences I was off to the races.
Q. How did you get the name "Curiousity"?
Curiousity:  It just came to me.  No crazy storyline behind it, It just fit my personality.
Q. Do you come from a musical family?
Curiousity:  Yes.  I'm the youngest of 6 siblings, we didn't have much, and music was free.
Q. Who is your favorite musician/group?
Curiousity:  I have 2 favorites.  2Pac & DMX.
Q. What influence if any, do they play in your music?
Curiousity: They helped me deal with a lot of problems I was dealing with just through their music. I could understand 100% how they felt as I felt similar a lot of times.
Q. What's your favorite album?
Curiousity:  All Eyes on Me/ 2pac.
Q. Would you prefer to have the money or the fame?
Curiousity:  I prefer money.  Fame gets you into clubs… Money buys you clubs.
Q. What do you think of music that is currently in rotation?
Curiousity: It sucks!  Too many people sound alike.  Nobody's real anymore.
Q. What are your thoughts on rappers rapping about using hard drugs (ex. Molly, Xans, Percs, Lean)?
Curiousity: Doesn't bother me.
Q. Who do you think is the hottest MC in the game right now?
Curiousity:  Kendrick Lamar.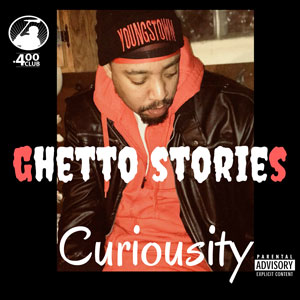 Q. An Indie Label on the rise .400 Club Music… How did you hook up with them?
Curiousity:  It's my cousin QB aka Mr Casualty's label. He believed in me, and gave me an opportunity to get my music heard by the world.
Q. Given the chance to sign a major record deal, what would be the top 3 you'd love to work with?
Curiousity: I'm a Midwest cat, Ohio born and bred, but I'd have to say.  Interscope, Aftermath, G-Unit records, and Top Dog.  They seem to have a history of working well with independent minded artists, and have a knack for breaking artists out onto the big stage.
Q. Listening to your album "Ghetto Stories", you paint a lot of vivid pictures of your life in the streets, are you able to tell us how much is more than just entertainment?
Curiousity:  Lol… No cause I'll get in trouble!!!  I'm sure there's a statute of limitation for certain things I won't speak on.
Q. Where can we stream or download album?
Curiousity: Stream the Album "Ghetto Stories" on Spotify: https://open.spotify.com/album/3C5GxkhMGZNbF0GU1jKW4R
Buy on iTunes/Apple Music: https://itunes.apple.com/us/album/ghetto-stories/1359499512?app=itunes&ign-mpt=uo%3D4
Google Play Store: https://play.google.com/store/music/album/Curiousity_Ghetto_Stories?id=B3fgut5jwdpm66fxan65gljf7ly
Q. If you could work with any major artist right now (any genre), who would you like to collaborate with?
Curiousity:  Young Jeezy, Wiz Khalifa, Chris Brown, Snoop Dog, Drake, or DMX.  Or pretty much anybody who's hot, real, and that I can truly vibe with.
Q. What's the biggest thing you've learned so far along your musical journey?
Curiousity: Trust no one.  Believe in yourself and what you're doing. Learn more about this music business every day!
Q. Will you be performing any shows or festivals in the near future?
Curiousity: Yes, Of course I will.  Follow me on social media for the latest updates.
Q. For booking and fan purposes, how can people find you on social media?
Curiousity:  400Clubmusic@gmail.com or curiousitymusic@gmail.com, Facebook https://www.facebook.com/profile.php?id=100008341452091
Q. Where do you see yourself in the next 2 years?
Curiousity: I see myself On Top!  Sounds cliche', but I'm writing at an all-time high, 4 to 5 full songs daily!  All heat!  With this work ethic, I'm destined for greatness.  .400Club Music!!!
OFFICIAL LINKS:
Facebook: Curiousity (Laquawn Smith): https://www.facebook.com/profile.php?id=100008341452091
Facebook: QB aka Mr Casualty: https://www.facebook.com/QbAkaMrCasualty/
Spotify: https://open.spotify.com/album/3C5GxkhMGZNbF0GU1jKW4R
Contact: mrbooth330@gmail.com
Please follow and like us: