Seventeen year-old Ohio, USA based rapper/producer/songwriter, Blank handles every aspect of his music on his own. He has been writing rap since he was 6 and producing since 13. "The Blank EP" which is releasing on October 31st, is a dark trap style production with heavy double entendre lyricism. Blank worked over 100 hours on this EP, which is 7 tracks long with around 20-25 min. run time.
Can you tell us a little bit about where you come from and how you got started making music

?



Blank: I'm born and raised in Middletown, Ohio. My dad did poetry for a long time and when I was around 6 I wanted to be like him and try it, we listened to a lot of Eminem so it quickly formed into writing rap verses. I was 13 when I first decided to produce music, shortly after that I made my first song and the rest was history!
Have you had formal training or are you self-taught?



Blank: Every single step of the way I have taught myself!
Who were your first and strongest musical influences that you can remember?
Blank: Eminem and Tupac are my main influences for my writing style, Dr. Dre is who influences my production. They made up my childhood so it was almost natural!
What do you feel are the key elements in your music that should resonate with listeners?



Blank: People could resonate with a lot of things in my music, I'm really versatile so I feel most rap fans could find something they enjoy in my catalog!
For most artists, originality is first preceded by a phase of learning and, often, emulating others. What was this like for you? How would you describe your own development as an artist and music maker, and the transition towards your own style?



Blank: I think everyone goes through a phase of emulating other artists in this industry, I get inspiration from everything around me. I have just found a way to use my inspiration to elevate my sound and making it my own.
What's your view on the role and function of music as political, cultural, spiritual, and/or social vehicles – and do you affront any of these themes in your work, or are you purely interested in music as an expression of technical artistry, personal narrative and entertainment?

Blank: I see nothing wrong with speaking what's on your mind, right now we are dealing with a lot so venting to a group of people who support you might be right for you. Me personally though in my music I focus on making a great piece of art instead of talking about whatever.
Do you ever write a song with current musical trends, formulas or listener satisfaction in mind, or do you simply focus on your own personal vision and presuppose that it will be appreciated by a specific audience?



Blank: That's kind of a hard question for me, when I write a verse and put it on a song I won't release it unless I think my fans will enjoy. But at the same time I write about whatever I want or what's on my mind.
Could you describe your creative processes? How do you most often start, and go about shaping ideas into a completed musical piece? Do you usually start with a beat, a narrative in your head, or a melody?
Blank: There is so many ways I go about making music, I'll hear a melody in my head I like, start writing a verse, or I'll hear whole beats in my head. It's really no telling how I'll start the beginning of a song.
What has been the most difficult thing you've had to endure in your musical career, or life so far, and how did you overcome the event?



Blank:  For me it was depression, I dealt with it very bad throughout school. I did a lot of meditation and reflecting on life and eventually overcame it with time.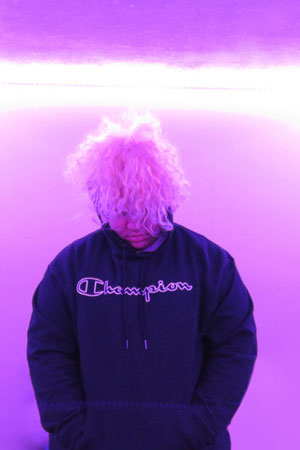 What would you consider a successful, proud or significant point in your career so far?
Blank:  Getting a feature with Bizarre from D12, D12 is Eminem's rap group and I got a song with one of the members. That was so big for me personally just for the simple fact I look up to him so much.
If someone has never heard your music, which 5 keywords would you personally use to describe what you and your music is all about?
Blank: Versatile, Passionate, Catchy, Lyrical.
If the name Blank

came up in a conversation among music fans, alongside which other current artists would you most like to be associated with in that conversation?



Blank: I think I could be associated with anyone in rap who is on the more lyrical side of the spectrum!
Where do you do most of your recording and production work? And is that where you recorded your new project "The Blank EP"?



Blank: This project was all recorded in my home studio, this project is very dark so I wanted to take myself to a dark place for this one and it just so happen to fit because I've been stuck at home anyway because of Covid-19.
What were the main compositional, performance and production challenges you came across on the new EP?
Blank: I struggled a lot with coming with new sounds no one had heard before, I also had to overcome the block of putting every single bit of emotion I have into recording each song.
Is there a particular song in "The Blank EP", on which you feel you delivered your most perfect performance, technically and emotionally, and which came out even better than you initially expected?
Blank: This is my best body of work to date, each song I put my everything into. The track "Throwing a fit" I put so much emotion into I feel it couldn't get any better!
On the flipside, is there a track on the EP that you keep thinking you should have done differently in some way or another?



Blank: Definitely a few, if I spent the time I wanted to on the EP I would take years on it though so oh well!
How long did it take you to complete the entire EP – from its conception to its recording and the final production – and which phase took up the most of your time?



Blank:  The concept came into thought January of last year. Next week the project will officially be finished, the production is what took most the time though. I wanted to try and make something completely new.
What are some of the most important tools, software and elements you used in creating your sound on the new EP

?



Blank: It was important for me to go to YouTube and look up dark/evil ambient sounds when I brainstormed, that tactic of putting myself in the headspace helped me make the entire thing actually!
Does the EP have a central narrative theme, or are the songs just loosely connected? What message are you ultimately trying to communicate with new "The Blank EP"?

Blank: The EP had no message really, I just had the idea to make a dark sounding project. All songs were made with the intention of the projects theme!
What do you find most rewarding about what you do? And do you have a specific vision or goal set in your mind that you would like to achieve in the near future?
Blank: The most rewarding this for me is getting messages from people saying they enjoy my music, it's nice knowing all the work I put into my music is bringing someone joy or putting off some sort of emotion. My next goal in my career is releasing a great album!
Connect with Blank on INSTAGRAM and SPOTIFY
Please follow and like us: