Amethyst RX releases his second album, entitled "Roses in January" and is the first released under the Amethyst RX moniker. His debut release entitled Saturday Morning, was released under the name Young Prophet, a name which has been retired due to issues with an artist using a confusingly similar name. Roses in January is described by the artist as: "Focusing on Pain, Passion, Love and the beauty in all. A new wave in music." And as a 2nd release, it shows a diversity in music styles beyond his age.
Ten tracks of Lo-fi, sometimes grungy beats, are layered with deep poetics, with no topic off-limits. The entire album is a peak into the soul of the artist, with thought provoking lyrics and melodies that stick in your head. In the coming weeks, the album will have worldwide digital distribution, and can be found on iTunes, Spotify, Tidal, Amazon mp3, Google Play and more. In addition, fans can select free songs at https://www.amethystrx.com/music.
How did you get started in the first place? And why the specific choice of the moniker Amethyst RX?


Amethyst RX: My start in music really began in 7th grade, I freestyle rapped and just jotted rhymes. Even though music had always been hugely important to me even before. The first song I wrote and put together was "Cartoons", and from there everything I wrote and did in music grew. I started to form a name for myself locally and making my music my focal-point. I chose the name Amethyst RX recently, Amethyst in the name was mainly chosen for the color rather than the healing crystal. I think music can get a vibe from not just sound but color as well and Amethyst had the vibe I was looking for. RX means remedy and I think that's something really important because I see music as a life remedy. So that's what I chose Amethyst RX
Who were your first and strongest musical influences that you can remember?
Amethyst RX: I think the first real musical influence i had growing up was Marshal Mathers. Eminem was like my idol as a kid, he lead the life I wanted to lead. Besides Shady, I always had Wu Tang playing as a kid and other beetles from the rap game introduced to me by my dad.
Which artists and/or producers are you currently listening to?
Amethyst RX: Currently I listen to about everything. I really like all music so I can appreciate where rap is and sounds. For artists I think the most influential mainstream to me right now is Childish Gambino. I listen to a lot of XXXTentacion, Lil Peep and Trippie Redd right now too, I heavily associate with the soundcloud sound.
What do you feel are the key elements people should be getting out of your music?



Amethyst RX: I think people get whatever vibe they really want from my music, It's all relative to what their looking for. I try to express all emotion into my music and I think people get all different elements from it.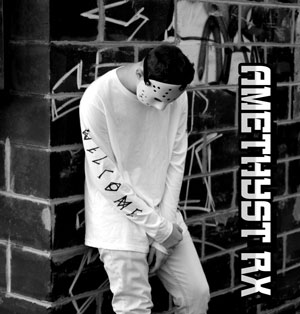 What do you think separates you from the crowd of emcees and producers emerging right now?



Amethyst RX: Right now I think the biggest separation in me and others is my age, being 15 kids relate to me. I keep it real, and real recognizes real. Along with that I think my style is different from most and people see that, it's a kid doing things differently.
Do you currently have a preferred song in your catalog, and why is it special to you?



Amethyst RX: Right now I think the best song I've made is Cure. I nitpick a lot of my writing and Cure turned out to be just what I wanted to listen to. It says exactly what I want, and sounds just right.
Are your lyrics predominantly based on real events and personal experiences, or are they drawn from your creative storytelling skills?


Amethyst RX: My lyrics are mostly based on my personal self. I try to paint a picture in music and use my personal life as inspiration.
What would you consider a successful or high point in your career so far?
Amethyst RX: So far I think the craziest thing for me was seeing thousands of plays as a start, mixed with being in a magazine and radio stations. It all just kinda caught me off guard
What has been the most difficult thing you've had to endure in your life or music so far?


Amethyst RX: I think the most difficult thing I've had to endure through my music is other people. Coming up a lot of people put you down and don't believe in you. I think one of the hardest things in music is being able to drown all that out and stay up.
What key ingredients do you always try and infuse into your songs, regardless of style or tempo?
Amethyst RX: No matter what when I write music I try to infuse reality into sound. Whatever the style or tempo I put personal accounts and genuine feeling into the song.
Do you also collaborate with outside sources, or do you handle both lyrics and production work on your songs?
Amethyst RX: In my music I write solo and put all the songs together. I outsource for beats and use a lot of different producers to get the sounds I look for. For recording and mixing Kirk T is my go to.
Which aspect of being an independent artist and the music making process excites you most and which aspect discourages you most?


Amethyst RX: I think being an Independent artist is where it's at. All I got is the world in front of me and places to go. Music is all I know so I'm really just doing what I love. I think the most discouraging thing about it though would be knowing that in the grand scheme, you're still a nobody.
How do you market and manage your music career? Do you have a management team or do you control everything by yourself

?
Amethyst RX: Most of my music is advertised by word of mouth. I tell like everyone I know to tell their friends and it just kinda spreads. Kirk T does press releases as well and that generates more official hype and wider scale listening.
If you had the opportunity to change one thing about how the music business works right now, what would that be?
Amethyst RX: If I could change the music industry I think I would put more emphasis on the culture and art of it all. I think people should see more of the less known and underground artists. Less mainstream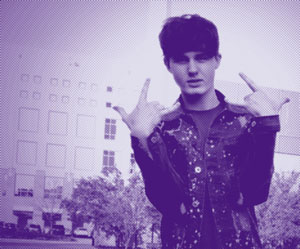 If someone has never heard your music, which keywords would you personally use to describe your overall sound and style?
Amethyst RX: To describe my music I think is hard. I could compare myself to another artist, but I'm not them. I focus on lyrics sound and emotion. Everything else is an opinion.
Do you consider Internet and all the social media websites as fundamental in building a career in music today, and what is your personal relationship with the new technology at hand?


Amethyst RX: I think today the Internet and media is mostly how everyone gets started. I use Instagram @AmethystRX and my personal snapchat to advertise a ton.
Tell us something about your latest release and where fans can find them.


Amethyst RX: My latest release was Roses in January, it's my second album. I focused on Pain and Emotion and I think you can really hear it. It's going to be available digitally on iTunes, Google play, Spotify and most other places like that. Currently you can hear it on my SoundCloud, Amethyst RX, with the exception of 3 songs (https://soundcloud.com/amethystrx).
What is your relationship with visual media? Do you think videos are important for your music? Do you have a video you would recommend fans checkout?


Amethyst RX: Currently I don't have any music videos or visual media yet. It's something I definitely could see in the future but right now there's just too much going on.
If you were forced to choose only one, between receiving a Grammy award and having a Certified Platinum selling disc? Which would you choose and why?


Amethyst RX: If I could choose between receiving a Grammy or a platinum record I would go with the platinum record. I think it shows that people wanna hear what you have to say more. Also I mean, platinum record, that's just sick as hell.
What's next on the upcoming agenda for Amethyst RX in 2018?
Amethyst RX: Honestly, I really don't know what's next. I have more projects in the works as well as collaboration but right now I'm really trying to build up publicity. I'm always writing though and I have some things in the works I'm excited about. There's definitely more to come and 2018 really just started, so stay tuned!
OFFICIAL LINKS: WEBSITE – SOUNDCLOUD – INSTAGRAM – FACEBOOK
Please follow and like us: