Edgler Vess is an independent rap artist from the Bay Area, Ca now residing In Portland, OR. He has just released his 10 track album "California Dream Music". Vless could so very easily have gotten lost in the massive wave of rap artists that make their way into our ears every day. But he rides a distinctive wave that washes into that electro-indie inflected hip-hop that's either catchy and interesting or grating and boring, but never overlooked. Luckily he falls into the former category, and fortunately he is also blessed with a sharp wit and what seems like a flamboyant personality.
How long have you been in the music business and how did you get started in the first place?
Edgler Vess: I've been writing music since I was a child. I didn't take the craft seriously as a profession until 2010-2011.
Who were your first and strongest musical influences that you can remember?
Edgler Vess:  As far as Hip Hop goes, Dr. Dre. I remember my mama constantly listening to the song, "Let me Ride" from the Chronic album. I don't think she ever leaned towards rap music before then- I think she gravitated towards the Parliament Funkadhelic samples. I digress, but that's what stands out in my memory as one the first seeds planted. As far as my strongest influence, I would have to say Janelle Monae.
Which artists are you currently listening to? And is there anyone of these that you'd like to collaborate with?
Edgler Vess: Janelle Monae, Mick Jenkins, Kendrick Lamar, Bat For Lashes, Little Dragon, Kimbra to name a few. That list is far too vast, to be honest. I would love to collaborate with each and every one of them, I'm just too grounded in reality to think about it.
What are your thoughts on the current state of the hip-hop and the rap game in general?
Edgler Vess: It's evolving. I find a great deal of excitement in the growth that's happening, right now. The climate is becoming more eclectic.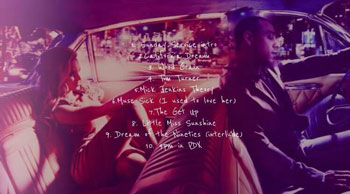 What do you think separates you from the crowd of emcees emerging right now?
Edgler Vess: Intensity
Which do you ultimately prefer? Entertaining a live audience or creating songs in a studio setting?
Edgler Vess: I rather fancy both. But, creating is, and has always been- creating.
If you were forced to choose only one, which emotion, more than any other drives you to be a part of this highly competitive business day after day?
Edgler Vess:  Fear
What would you consider a successful or high point in your career so far?
Edgler Vess: Having my music published and distributed through major music platforms such as Apple Music, Tidal, Spotify, etc. My first radio interview and play, also gets an honorable mention.
Tell us something about your lyrics and music production on your releases. Which part of these processes do you handle yourself, and which do you outsource generally?
Edgler Vess:  I always outsource the production as far as the beat, itself. I write, produce, record, mix, and master every song I create, these days.
What do you feel your listeners should get out of your music?
Edgler Vess: A connection to one's self and other, hopefully.
What has been the most difficult thing you've had to endure in your life or music so far?
Edgler Vess:  I don't have the length of time to elaborate on a personal level. As far as music goes, I think trying to get people to support or believe in an abstract vision has and is very exhausting and difficult, at times.
Which aspect of being an independent artist and the music making process excites you most and which aspect discourages you most?
Edgler Vess: I think growth and connection is the most exciting part, for me. There is nothing more thrilling than seeing your technique and craft constantly improve. Moreover, there is nothing more humbling than connecting with a human being through your art, however subjective. Mixing and mastering the music is by far the most discouraging process, If i had hair, I would be constantly pulling it out, as a result.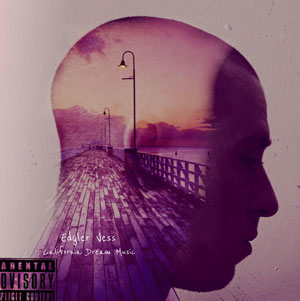 How do you market and manage your music career? Do you have a management team or do you control everything by yourself?
Edgler Vess: By spending money, lol. Honestly, talent means nothing, without the currency to invest in the product or art itself. Everything cost money, from marketing to product management. With that being said, I do everything myself which only means that the overhead of such is always out of my own pocket. Perhaps, I should look to getting management, lol.
If you had the opportunity to change one thing about the music business, what would that be?
Edgler Vess: Beanie Sigel once said, "There are just certain questions, YOU are not qualified to answer." I'll go with that.
If someone has never heard your music, which keywords would you personally use to describe your overall sound and style?
Edgler Vess: Unconventional, expressive, cathartic, unique, vivid, intense. Does that work?
Do you consider Internet and all the social media websites as fundamental in building a career in music today, and what is your personal relationship with the new technology at hand?
Edgler Vess: Yes, and my personal relationship with such is exhausting and tedious.
What is the title of your latest release and where and when can fans find it?
Edgler Vess:  California Dream Music, it is available now for stream and download on Apple Music, iTunes, Tidal, Deezer, Spotify, Soundcloud, Datpiff, and GetRightMusic.
What is your relation with visual media and YouTube etc. Have you released any videos clips for fans to see?
Edgler Vess: It's an amazing tool, obviously. I have a few music videos out on Youtube, none of which will garner an MTV music award.
If you were stuck on a desert island, which 3 albums would you choose to accompany your stay there?
Edgler Vess: Damn, um…. That's tough. 1. ATLiens- Outkast 2. Archandroid- Janelle Monae. 3. Purple Rain- Prince
I'm not sure if you already have one, but if you had to think of a slogan that could leave an impact on fans, what would that slogan be?
Edgler Vess: Chess not checkers.
OFFICIAL LINKS: SOUNDCLOUD – DATPIFF – YOUTUBE
Please follow and like us: