Ed Roman is an Award-winning singer/songwriter, performer and multi-instrumentalist from Shelburne, Ontario, Canada.  Blurring the lines between pop, rock, folk, and country music genres, Ed's uniquely crafted songs have received regular rotation on more than 100 terrestrial radio stations across North America and more than 600 stations, worldwide.  Ed is a 2014 Artists Music Guild Award Nominee, a 2014 International Music and Entertainment Association Award Winner and 2018 nominee, a two-time 2015 IMEA Award nominee, a 2015 and 2016 Josie Show Awards winner, an Akademia Awards Winner, and a two-time Indie Music Channel Award winner. Ed recently won a 2017 Radio Music Award for Best Americana Artist. Ed's latest release is the critically acclaimed album, Red Omen.
How long have you been performing and recording, and when did you first realize that's what you wanted to do?
Ed Roman: I've always been interested in performing, the performing arts and of course music. I'd say when I was about six year's old singing songs in the kitchen to my family and friends. I also did a great deal of musicals in grade school and theatre in high school.
If someone has never heard your music, which keywords would you personally use to describe your overall sound and style?
Ed Roman: Like a kitchen sink of music blowing up in your imagination. Kind of like watching a 1950s Frigidaire refrigerator explode in slow motion under water in a swimming pool. Slowly fragmented ideas make their way to your auditory, cerebral and emotional peripheral spectrum.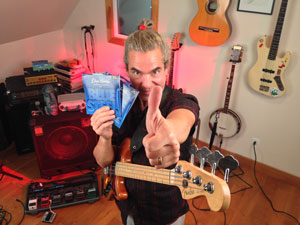 If any, which current artists do you listen to and respect for their artistic endeavors?
Ed Roman:I respect every "artist" and that word comes with of course some argument and definition. Anybody that has the tenacity to stand on the stage and pronounce their life experiences. Flawed or robust as they may be. Those who have spent years of their lives mastering an instrument and realize that the quest won't be finish until they leave the building. Those who have given up time with their families, driven thousands of miles without pay. Sipped sucked and slept in some of the worst places imaginable all for the passion that drives them.. Those that have spent a small fortune in order to bring an idea to the rest of the world. My hat is off to those people. 10 gallons worth.
Do you remember the first piece of musical equipment that you actually purchased? And which is the one piece of hardware or software you're still looking to add to your setup now?
Ed Roman: First purchases were in 1982. Pan hollow body electric. Hum bucker pick ups with a tobacco Sunburst finish. Wish I still had it…and a Peavey pacer amplifier…you've gotta have volume.
Where do you do most of your recording and production work? And do you outsource any or all of these processes?
Ed Roman: All of the recording I've been doing over the last 10 years has been in my home studio. A 1700 square-foot paradise. Area 51. Hardwood floors, control room with a floating floor and matching vocal booth. After that the recordings go to The Radio Room in Barrie Ontario. That's were Michael Jack mixes and masters the rest of the procedure.
Studio work and music creation, or performing and interacting with a live audience, which do you prefer?
Ed Roman: I would say they're both very different. The studio offers you that relaxed big comfy couch environment without the pressures of travelling, timing and a hectic schedule. Playing live of course is like feeding the monkey. "Very exciting &@!? Jim" To make the music live in front of a group of people is borderline religious experience.
Which one of your original songs currently gets your emotion and adrenalin pumping the most? What's its back story?
Ed Roman: hehehehe.. They all get me pumping. They come from a source inside of me that deals with the emotional dialectics of my existence. The shit storm catastrophes and  the victorious burgs that have been scaled and traversed. They are my babies.. OH YEAH my babies.
Is there a particular song in your catalog on which you feel you've delivered your most perfect performance, technically and emotionally? And is there maybe one song that you keep thinking you should have done differently in some way?
Ed Roman: Artists never stop growing and learning from their experiences. Never.
Could you describe your creative process? What do you usually start with and how do you go about shaping these ideas into a song?
Ed Roman: I love your question and it is timeless but it's also like asking a tree which way its roots are going to run next. It's a menagerie of continual scribbling and playing with ideas that happens whether I want it to or not. I won't lie some ideas come in very quickly…within minutes. Almost transcribed out of the ether. Others take months of contemplating and working through or shall I say following through to the connective ideas that seem to want to be there. It's an aha moment.
What were your main compositional, performance and production challenges in the beginning of your career and how have they changed over time? 
Ed Roman: The naked music.. I used to be so concerned with the fullness of songs and hence the translation to stage. The studio can promote an elaborate and expansive recording which can sometimes be hard to translate in a live scenario but what's most important is the basis of the song and the concept of the idea in its naked form. If the song can stand by itself with just simple instrumentation it's worthy of a listen in any arrangement or formula
What are currently some of the most important tools and/or instruments you're using in creating your sound?
Ed Roman: My imagination 😉
How essential do you think video is in relation to your music?  Do you have a video you would suggest fans see, to get a better understanding of your craft?
Ed Roman: The good folks of the globe can check out a lot of what I do by watching the video for "I am Love". It's a studio video. A lot of fun and phunky. Yeah…that's right with a PH.. It gives you a great look at what happens in my studio and how I approach the music while I'm recording. You can watch it on YouTube at https://youtu.be/f3K7mfcMfQE
What's your view on the role and function of music as political and/or social vehicles – and do you try and affront any of these themes in your work, or are you purely interested in music as an expression of artistry and entertainment?
Ed Roman: Once again fantastic question…. timeless and I'm sure a different answer would be garnered from just about everybody you'd ask. To me the basis of the art form comes from storytelling. It's only in modern times that we really have commodify it and turned it into an entertainment source. Ancient cultures have always used song, story, rhythms and melody as a form of self-expression to describe their social situations. To pass on to the next generation in oral tradition. That could be sociopolitical, religious or spiritual, humour based life experience depicted through sarcasms or conundrums about life. In my personal opinion I think it can be very dangerous to limit art. It is a reflection of the moments of the time that we live in. The naked truth if you will. It can be hard to face the truth most of the time but it shows us more about ourselves then we'd like to know.
And now a story….
"According to a 19th century legend, the Truth and the Lie meet one day. The Lie says to the Truth: "It's a marvellous day today"! The Truth looks up to the skies and sighs, for the day was really beautiful.
They spend a lot of time together, ultimately arriving beside a well. The Lie tells the Truth: "The water is very nice, let's take a bath together!" The Truth, once again suspicious, tests the water and discovers that it indeed is very nice. They undress and start bathing. Suddenly, the Lie comes out of the water, puts on the clothes of the Truth and runs away.
The furious Truth comes out of the well and runs everywhere to find the Lie and to get her clothes back. The World, seeing the Truth naked, turns its gaze away, with contempt and rage. The poor Truth returns to the well and disappears forever, hiding therein, its shame. Since then, the Lie travels around the world, dressed as the Truth, satisfying the needs of society, because, the World, in any case, harbours no wish at all to meet the naked Truth." -Unknown-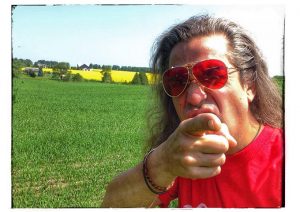 With more and more musicians creating and releasing music on their own, what are your feelings on how the music business works right now with all the digital platforms and streaming services? What are the pros and cons in your opinion?
Ed Roman: Man !! you could have a fireside chat or town hall meeting about this question. I think saturation has promoted some form of entropy and we are now entering the singularity.
What would you consider a successful, proud or high point in your endeavours so far?
Ed Roman:Red Omen.. Quite proudly I say in the last year I have worked closely with one of the industry's best animators. Nelson Diaz. Nelson and I have created an animated video for the title track of my latest album Red Omen. It's like School House Rocks meets Ed Roman. As of thus far the video has been showing a film festivals all over the world. New York, Los Angeles, Moscow, Sicily, Rome, Athens and will continue to make the circuits until the spring release in 2019. Now…. folks need to understand that I am a dyslexic or was labeled as such. I actually know it's a gift now. I struggled greatly in school with reading and writing. Special class, tutoring, summer school and most of all my mother who spent hours of her time with me practicing reading was a big part of my personal fight and now victory of being an acclimated, awarded, published and favoured composer and musician. Reaching out to the dyslexia societies and North America I have manage to connect the idea of telling my story through this song as part of a fundraising campaign. A campaign to raise money for children who struggle the way I did and don't have the assistance that was afforded to me. It's definitely a high point because the music and the story through the video can help change the way people feel about education and assist others. It's bigger than me.
Do you consider Internet and all the social media websites as fundamental in building a career in music today, and what is your personal relationship with the new technology at hand?
Ed Roman: It is absolutely important and an essential tool for anybody that is navigating the 21st-century with an idea. I have embraced it wholeheartedly although I am conscious of mind to realize is extremely detrimental to the human condition. I make sure I spend enough time away from it… in order to remind myself how amazing it is to be a human being away from the Borg mentality and exist in the pantheon that I breathe in.
What is the best piece of advice regarding the music business that you actually followed so far, and what is the advice you didn't follow, but now know for sure that you should have?
Ed Roman: One of the best pieces of advice that I received was not to quit.. It would be my own hard work and persistence that would forge my future. There is no end goal. The goal or the "gold" is the journey itself. As difficult and hard as it may be sometimes. It's not until you look back and realize how high you actually climbed and that the journey has been worth taking.
Reaching audiences usually involves exploiting media opportunities, and possibly working with a PR company. What's your perspective on the promotion opportunities available to indie artists today? Are there any specific improvements you'd like to see?
Ed Roman: Promote promote promote. Sell sell sell. This of course is the business side of our world…not the artistic side. Although some may claim you need to be a magician in order to make it in this industry today. It is of course the essential tool that lets people know who you are and what the hell you're doing. It gives people the ability to dabble in the idea of listening to you or paying attention. You are your own commercial machine. It is an essential tool and part of what creates a presence in the world today and yesterday. It's very different today. It's digital and on platforms in your hand. In yesteryear it was promotion on the radio television and visual commercial advertisement on billboards, magazines and just about everywhere you looked. What I think needs to occur this musicians unite. Creating an online jukebox that creates fare usage for those that want to listen to music. Residuals of plays go right back to those that put it there, it's a simple as that.
Do you have a specific musical vision hidden somewhere in your closet, or mind, that you haven't yet been able to realise for technical, financial, or other reasons?
Ed Roman: I sometimes love doing cover songs. I've been creating an arrangement for a 20 piece electric Afro Cuban grouping of musicians for a rendition and recording of Black Sabbath's War Pigs. If I could get Ozzy on-board…well that will be fantastic…No small feat.
Could you tell us something about your latest release, and where fans can find it?
Ed Roman: Thank you so kindly for having me today and allowing me the ability to express my thoughts and feelings freely. The latest album / release with the upcoming video for the title track is RED OMEN.. As I mentioned, since June I've been diligently working alongside my manager Michael Stover at MTS Management on this video PR campaign.. Red Omen has been making its way through the film festival circuits around the world and getting an incredible amount of attention and press. Working hand-in-hand with famed animator Nelson Diaz, Spongebob Squarepants, Kung Fu Panda Two, TED, Disney, Nickelodeon, Teletoon, Sesame Street, he and I have created something very special. Along with support from author and head administrator Sue Hall from Positive Dyslexia in North America, we will be embarking on a fundraising campaign for tutoring programs for children who struggle with dyslexia in the spring of 2019.
Ed heads🗿 can listen to the lyric video RIGHT NOW on YouTube at https://youtu.be/fxT1NV2YvJY
Here is a link to the Facebook event page where fans can follow along with upcoming film festivals, events and just about everything under the Red Omen sun at
https://www.facebook.com/RED-OMEN-The-Video-177029219598643/
I would also encourage fans to check out all of the wonderful things that Positive Dyslexia is doing for children today at http://positivedyslexia.com
OFFICIAL LINKS: WEBSITE – FACEBOOK – TWITTER
Please follow and like us: