The one and only Industrial Hip Hop masked musician from the New England Region. Earworm Entertainment introduces to you! Jay Prophet from Cranston R.I. Jay brings Hip Hop to a new level in the underground scene with screams, emotional, lucid truth that is exploited through his lyrics. This man comes from a background of experienced multi genre branches of music such as metal, rock, Hip Hop. Jay Prophet is well known for his creativity, originality, Powerful vocal chords. As well as the energy he delivers to a crowd at shows.
Tell us something about how you got started making music, and how you transitioned to hip-hop?



Jay Prophet: Ooh boy! well.. I was raised by a family that almost every member, from my brother, father, cousins, uncles, shit aunts, mothers, grandmother you name it. I started as a kid. I always had my share of discovering multiple instruments all my life. Drums since 7 years' old played guitar and bass. I really spent most of my life not listening to much hip hop. Mostly here and there. I was doing cover substituting on drums for a few bands but had plans to make music on the inside around 2014 of producing beats and making some sort of hip hop style of my own. I wanted something new.
Who were your first and strongest musical influences that you can remember?



Jay Prophet: hahah where do I even start on this hahah. Really big into old-school hip hop from Ice Cube to Pac, rock music that was melodic, like bands that made huge messages and were different. The Black Sheep, Linkin Park, Korn, Tool.
If I was to turn on your media player right now, which artists/songs would I see on your recently played list?



Jay Prophet: Tomas Mcdonald, Twiztid, ill nino, icp too much.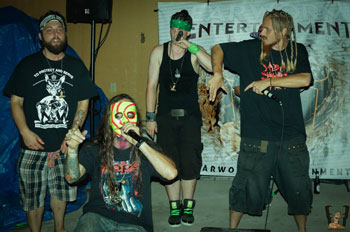 What do you feel are the key elements in your music that should resonate with listeners?



Jay Prophet: That the Truth is out there. My music exploits truth.
What do you think mainly separates you from the massive crowd of artists emerging right now on platforms all over the web?



Jay Prophet: Being and underground hip hop artist also as a masked musician. I'm officially the only masked musician in Rhode Island living in the most corrupted state in the U.S I have a small fan base but its only because my music is so different compared to other hip hop. I'm too underground because I am different.
Could you tell us why do you wear a mask when performing?

Jay Prophet: It's because my mask is badass and I made it and my mask is trippyer than anyone knows. My mask is my main face of my persona and creation with my music.
What is your process when writing, recording and producing your music? Do you collaborate with others or outsource any of these tasks?



Jay Prophet: I collab but I mostly produce my beats and try to feel the music before I write. Sometimes with collabs with other artists they either send me their beat give me the run down. I do the same with mine as well.
How long have you been involved with Earworm Entertainment?
Jay Prophet: I started with them back in 2015 took a break to deal with family loss and came back 2 years later.
Tell us something about The Wormed Out tour last spring?
Jay Prophet: It was short fast. We did it in one week only had 1 day off. Every show I saw each of us improve as stage performance and lyrically and vocally. It wasn't much of big crowds at these shows but Mass had a decent crowd and we kicked so much ass. To me it's beyond words can describe.
What would you consider a successful, proud or significant point in your career so far?
Jay Prophet: summer mid-July of 2018 I had the chance to perform at a warped Tour event in Mass at xFinity center. I performed on the Transform stage and the crowd was so big it was breath taking. The crowd digged it and rocked out. Even at the end of my songs because it was about 101 degrees outside, I would see the people in the crowd stop and sweating and the feeling of the hot breeze of moving bodies pause as I felt the cool air from the sudden stop. That feeling was so strange and I never thought that was a thing. When it comes to over 5 thousand people and such a hot day it was looked difficult to bare out in a crowd. I only had a 15 minute set. I gave it so much of my all that after my set I threw up because of stretching my vocals from screams the weather really got to me and I was glad it was over but it was the still a huge success.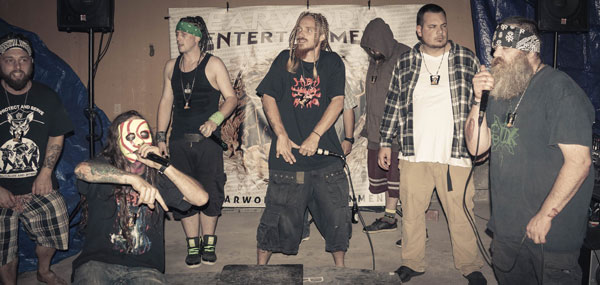 Have you had success at your Garage shows thrown at your house?
Jay Prophet: Yup 2 of them.
What is Third Eye Rise?



Jay Prophet: 3rd Eye Rize is my visual and motion picture production company. Myself as 3ER not only promotes myself as Jay Prophet but earworm and any local artist. It's mostly for musicians as local support promo business.
Which aspects of being an independent artist excites you most and which aspects discourages you most?



Jay Prophet: I can't answer that.
What is your relationship with visual media? Do you think videos are important for your music, and do have a video clip you would like to recommend that fans watch?
Jay Prophet: I have video clips and I do think their important. I am my own visual effect I don't have much of a relationship more of just an influence but I create my own. Just type in Jay Prophet and all social media platforms.
In general, do you consider Internet and all the social media platforms as fundamental in building a career in music today, and what is your personal relationship with the new technology at hand?
Jay Prophet: I do it the old-school way and internet and both are important. I just use computers and software and I create it.
How long have you been married?



Jay Prophet: This about my music bro.
Does your wife support you as an artist, or does she view it as a hobby?



Jay Prophet: For real bro I don't know what else you want to know that involves my wife I wonder how you'd feel if I asked you about your life then wanna talk about the wife. That the type a shit that make someone wanna pick up a knife and go slice and dice. Hahah please is this even real?
Do you have a favorite track in your catalog that has a specific backstory and/or message and meaning very dear to you?



Jay Prophet: No they are all fictional. I'm like a musician that is also like a book author. I write a story and it's just a story. They're mine. I created them so yeah they are dear to me.
Could you tell us something about your latest project?

Jay Prophet: It's going to be amazing and just watch.
What do you find most rewarding about what you do? And do you have a specific vision or goal that you would like to achieve in the near future?
Jay Prophet: Make money and Make people realize that the American government shouldn't tell you how to live your life and that they cause harm through human population control. People need to see the truth. The truth is love and we need to come together as one or we will fail.
ARTIST DETAILS:
Name: Jay Prophet
Location: Rhode Island
Birthplace: Rhode Island
Influences:
Style: Industrial Rap & Underground
Skills: Audio Production, Composer, & Video Production
SOCIAL LINKS:
Facebook: www.facebook.com/JayProphet1989/
Twitter: www.twitter.com/JayProphitear
Instagram: www.instagram.com/jay_prophet29/
MUSIC STREAMING:
Amazon: www.amazon.com/s?k=Jay+Prophet
Napster: www.napster.com/artist/jay-prophet
Spotify: www.spotify.com/artist/6qcZiGVDPNoLWaF85j4zAg
Youtube: www.youtube.com/channel/UCOH9kmnOfFJAKFLWsqOlwlA
Please follow and like us: