Young_Lovers_242 is a duo from Congo in Africa making Afrobeat/Afropop/Hip-Hop music. The duo consists of King Zeus a.k.a. MK Mosantu and Kadechi King who have released "Bend Down" as their first single on the Xing Records label, which they quickly followed up with "Sexy Love". The collaboration between MK Mosantu and Kadechi King comes as a pleasant surprise to fans of the Afrobeats genre. Their deliveries are effortlessly smooth and irresistible, as well as a perfect blend with the production sound, which make their records so appealing. Their style goes through every border of Africa and across the continent, into the global world, with a sort of vibration that excites both international and local audiences.
As we continue to champion Afrobeats music towards the very pinnacle of global dominance it duly deserves, it is only right that we shine a light on the artists who continue to pave the way for the global success that the genre enjoys.  The outstanding Young_Lovers_242 collaboration turns out to be a very satisfactory blend between the two talents, shaking up the music scene and further spreading out their tentacles as regards to international recognition via Xing Records.
From the minute you press play, "Bend Down" seems ready to shake the table of the Afrobeats and dance scene. The track locks into an infectious rhythm sends out an upbeat, summery vibe perfect for the hotter months ahead. Young_Lovers_242 consistently confirm throughout the track why they are among the scene's leading underground voices. MK Mosantu also impresses with his intense flex, complimenting Kadechi King's vibe perfectly, showcasing their talents to a wider audience.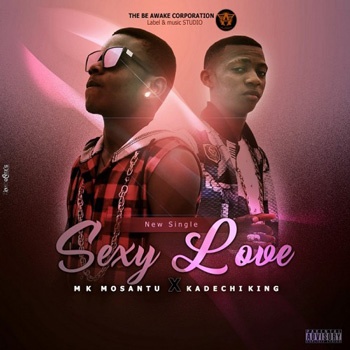 Their dazzling individuality and fabulous musical vibrancy shows a striking musical maturity on "Bend Down", as Young_Lovers_242 sing and rap their way across the beat effortlessly. The duo go from strength to strength on "Sexy Love", channeling their inner most creativity and challenging stylistic conformity, delivering sweeping performances. The song offers an expressive and exciting instrumental journey where MK Mosantu and Kadechi King bring in their kaleidoscopic talents to color the template.
Young_Lovers_242 are able to effortlessly transition from club bangers to sensual serenades. The Congolese artists immerse the listener into their afro-pop infused soundscape that bleeds an infectious energy, only furthered by the duo's charismatic characters and peerless vocals. The vocal deliveries are expressively canorous over the richly produced instrumental, which features lively percussion, textured keys and euphonic melodies.
Designed to uplift, the instantly contagious "Sexy Love" merges a powerful flow and delivery with a soaring melodic chorus. With these single projects, Young_Lovers_242 are set to spread their movement on a worldwide scale and it's fair to say that they will soon earn their reputation as one of Congo's applauded independent artists.
Talents like MK Mosantu and Kadechi King come around once in a while and completely switch the game up, changing it for the better. It's rare to find a sound so immensely and overwhelmingly captivating, and it's really refreshing to witness. With their intoxicating rhythms and colorful cadences, these songs are the perfect epitome of the entrancing formula that will lead  Young_Lovers_242  amass legions of fans across the globe.
OFFICIAL LINKS:
https://www.xingrecords.com/
FB: @xingrecordsmusic
IG: @xingrecordsofficial
Please follow and like us: