Xotic Yeyo is an original Funkjam band that originated in Deerfield Beach, Florida. Consisting of Stu Sauce on guitar and lead vocals, Rod Reiter on bass and Cody Orange on drums. The three met by chance through Craigslist. The band recently released the lead single "Mothership" off their EP "Down 2 Funk". Xotic Yeyo should be on every funkmeisters playlist and their new single is no exception. These funkateers have churned out a raw, grinding, grooving, and grungy fortified classic. This is hyperbole, yes. But this is also the truth.
"Mothership" will roast your funk sensibilities with a clap and shuffle delivery that showcases everyone's abilities, vocally and instrumentally. Xotic Yeyo pushes the boundaries and reimagines the genre with jamband deviations, which allows the arrangement to be more loose and jangly.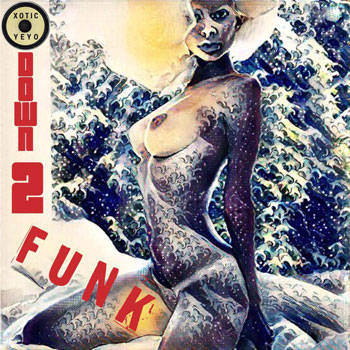 Xotic Yeyo comes at its audience in full force with the release of "Mothership". On the 4-minute plus record the band touches on every influence that has spiraled together over their combined years of playing.
Xotic Yeyo's signature hornless funky style resonates powerfully while their raw rocking appeal shines through this rhythm-propelled tune, which is compelling, demanding, and provocative.  Stu Sauce's halting vocals are quirky and deliver neat bits of beat poetry that transcend the song to an almost surrealistic level.
Cody Orange finally allows us to hear some real drumming, and not the predictable, computerized beats of modern musical productions that we've become too accustomed to. Where the funk begins is with Rod Reiter, who masters the bass as a preacher does the Holy Book. His bass slides about on a slaphappy jam; it's fuzzed, dingy, sticky and hot.
Stu Sauce carries this on with his nimble, cotton-picking guitar, which can switch between slinky strums and psychedelic solo drop in a heartbeat.
So yes, we live in a world where music fans soak up corporate mess and bands that thrive on attitude but not necessarily good songwriting. In this case, Xotic Yeyo delivers both. "Mothership" is a record that is a complete microcosm filled with rhythmic, harmonic and melodic niceties.
It is a different sounding sort of funk record and there is a reason why; the track carries a sign of maturity without abandoning the energy and raw zeal of the band. "Mothership" provides all the style, attitude, and experience of Xotic Yeyo, plus more. It's a crazy funky freak-out that could keep stoners and skaters, alternateens and jocks, all together in the same room…funking!
OFFICIAL LINKS: WEBSITE – YOUTUBE – FACEBOOK – TWITTER – INSTAGRAM
Please follow and like us: