Michigan-based rockers Wayland released their debut full length album with Mighty Loud / InGrooves called "Rinse & Repeat" on September 22nd.  Wayland, who since 2010, have released an album, an EP and various singles, consists of Mitch Arnold (vocals), Phillip Vilenski (guitars), Dean Pizzazz (bass) and Nigel Dupree (drums). "Rinse & Repeat" is pure hard melodic rock ear candy. Arnold is an amazing vocalist and the rest of the musicians in the band are really good. This album and this band's music will make you remember why you love this genre, which has all but disappeared from the radar. Yet in a presumably dire moment for the genre, Wayland have taken their single, "Through The Fire" straight onto the Billboard Mainstream Rock Charts. No mean feat, considering the modern mainstream tendencies toward corporate rock.
There are moments of almost orgasmic brilliance on this album, and then there are no fillers.  Right from the opening track 'Ghost', there's no mistaking the band's stadium-sized ambitions as they plunge into the thunderous riffing and percussion. With Vilenski's guitar elements very much to the fore and Arnold's perfectly-phrased vocals and anthemic choruses reminiscent of big hair and outrageous outfits, Wayland ramp up energy note after note.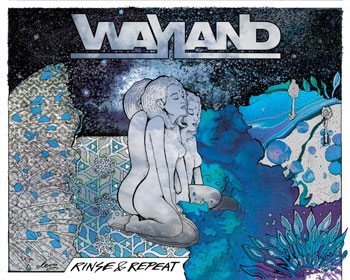 'Through The Fire' with its huge riffing and ecstatic vocals is guaranteed to lodge itself inside your cranium for days on end. Boasting an explosive chorus and a sense of high drama, 'Come Back To Me' emphasizes the melodic elements to grand effect, whilst the bluesy shuffle of the verses provide a welcome counterpoint to the kitchen-sink style production of the big choruses.
With a marching production that sounds like a million dollars and a vocal performance that impresses, "All Rise" is an anthem that is sure to form a centerpiece to the band's live set. Next up, is a full-blooded mid-tempo rocker with a melody to die for and plenty of spicy guitar work.
'All We Had' opens upon an unexpectedly theatrical note, all strings and placid vocals before rising to the sort of epic crescendo that bands simply don't write anymore.  Part Dream Theater bombast, part Bon Jovi epic, 'Revival' is a huge, ambitious track that speaks volumes about the band's self-confidence. Lest things become too pretentious and syrupy, 'Shopping For A Savior' is a more straight-forward blues-infused rocker complete with whimsical keys and daring subject matter.
For those who hanker after the flamboyance of the melodic rock era, this album brings that epoch vividly to life. Ultimately, Wayland are a technically proficient band who follow their muse with considerable joy, and it's difficult to fault such an irrepressible and colorful sonic assault.
Larger than life with a production job that sparkles like the band's individual performances, songs like "Back To Life" and "Brave Don't Run" is a window into a sound that serves as an antidote to the increasingly depressing corporate rock that seems to have become the norm these days.
Vibrant and varied, "Rinse & Repeat" – which also contains a couple of acoustic tunes and a pair of bonus tracks – will be adored by all those who remember a time when ROCK was much more than a just a genre, or simply a four letter word to attach three chords to!
OFFICIAL LINKS: WEBSITE – SHOP – FACEBOOK – TWITTER – INSTAGRAM – YOUTUBE
Please follow and like us: