In the ever-evolving realm of music, where artists strive to create groundbreaking works that transcend borders, Davido stands tall as an icon. Born David Adedeji Adeleke, this American-born Nigerian singer, songwriter, and record producer has emerged as a beacon of creativity, crafting a legendary career that resonates far beyond his roots. With his latest album, 'Timeless,' Davido embarks on a sonic odyssey that effortlessly fuses his adoration for Nigerian culture with a fearless embrace of global diasporic sounds. Hailing from Atlanta, Georgia, United States, but raised amidst the vibrant tapestry of Lagos, Nigeria, Davido's musical journey began as a member of the illustrious group KB International. However, he chose to forge his own path, leaving behind the pursuit of a business administration degree at Oakwood University to immerse himself in the captivating world of beats and vocal creations. Since that pivotal decision, Davido has never looked back, consistently scaling new heights and etching his name into the annals of music history.
Three year since his last album, Davido returns with 'Timeless,' a monumental recording that stands as a testament to his artistry and vision. The album opens with the soul-stirring saxophone of 'OVER DEM,' setting the stage for an opulent sonic journey that unfolds across its entirety. Afrobeats, an indomitable force within 21st-century pop music, is the beating heart of this album, showcased in tracks like the meticulously crafted 'FEEL' and the sublime collaboration between the guitar lines and Morravey's spellbinding guest vocals on 'IN THE GARDEN.'
One of the audacious elements that elevates 'Timeless' is Davido's inclusion of rising singers and budding newcomers. The Amapiano-tinged masterpiece, 'UNAVAILABLE,' featuring the sensational South African vocalist Musa Keys, exemplifies this fearless approach. Davido's willingness to share the spotlight and showcase emerging talent speaks volumes about his creative confidence and his commitment to the growth of the music industry.
Remarkably, 'Timeless' finds Davido comfortable in a supporting role, allowing other artists to shine while his presence permeates every track, casting an unshakable shadow. Dexta Daps ignites the fiery anthem 'BOP,' and the highlife crew, The Cavemen, infuse 'NA MONEY' with an old-school West African flavor that pays homage to the roots of the genre. Yet, when Davido takes the mic, his unmatched prowess shines through. 'E PAIN ME' bares his soul, while the scorching summer anthem 'PRECISION' boasts high-energy, punctuated by explosive airhorns.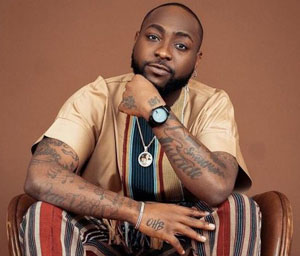 'Timeless' is not just an assemblage of songs but a profound reflection of Davido's artistry, his personal experiences, and his audacious vision for the future of African music. Each track brims with highlights, showcasing Davido's unwavering excellence across the album's 17 tracks. The inclusion of Asake in 'NO COMPETITION' amplifies the raw talent emanating from Nigeria, demonstrating its potential for global impact. The international reach of 'Timeless' reverberates on 'U (JUJU),' where Davido collaborates with North London's own Skepta, whose recent outstanding contributions continue unabated. Skepta's electrifying presence on the track marks one of the album's pinnacle moments.
As 'Timeless' draws to a close, it leaves an indelible mark on the listener's soul with the shuffling sound of 'Champion Sound.' This final offering encapsulates the essence of Davido's growth and maturity as an artist. Fearlessly tackling new challenges, the Lagos pioneer extends his reign and broadens his stature, presenting an album that stands as a testament to his versatility and artistry.
Davido's 'Timeless' serves as a striking testament to his immense talent and unwavering dedication to the craft. With every beat, every lyric, and every collaboration, he reaffirms his position as one of the most respected and influential musicians in African music today. His ability to seamlessly weave together diverse musical elements while maintaining his signature sound sets him apart as a modern-day music great.
In a world where boundaries are constantly blurred, 'Timeless' shines as a beacon of musical unity. Davido effortlessly bridges the gap between his Nigerian roots and the global diaspora, creating a harmonious fusion that resonates with audiences far and wide. This album serves as a sonic voyage, guiding listeners through a tapestry of emotions, experiences, and cultural celebrations.
With 'Timeless,' Davido continues to redefine the African music landscape, pushing boundaries, and inspiring countless artists along the way. His ambition knows no bounds, and his meticulous curation of collaborations and sounds demonstrates his commitment to pushing the envelope of creativity.
In a music industry saturated with fleeting trends and fleeting fame, Davido remains a steadfast force, a pillar of creativity, and an ambassador for the African music scene. 'Timeless' stands as a testament to his unwavering dedication, his unwavering passion, and his unwavering ability to create music that transcends time and place.
In conclusion, Davido's 'Timeless' is a masterpiece that cements his status as global afrobeats king. It is an album that exudes opulence, versatility, and a profound connection to his Nigerian heritage, all while embracing the vast tapestry of global sounds. With each track, Davido's artistry shines through, leaving an indelible mark on the music industry. 'Timeless' is not just an album; it is a transformative experience, an embodiment of Davido's evolution, and a testament to his brilliance as a musician.
OFFICIAL LINKS: https://www.instagram.com/ampuniversal_
Please follow and like us: