Uncle Brent and the NostoneMusic Band is an acoustic Americana Rock band that resides in the Austin area and book performances throughout in Texas. Uncle Brent has been writing, recording and jamming new tunes out of the genuine inspiration, passion and drive he has for making music. Uncle Brent's imaginative songwriting takes on an even wilder sound when he is joined by the NostoneMusic Band who possesses an authentic freedom of expression in their music that can only come from a genuine love of the craft and true desire to entertain. Together Uncle Brent and the NostoneMusic Band have released the album entitled "Bobbing for Crapples".
Sometimes an album comes along that captivates you so completely that you're never the same after hearing it. These records are rare but every once in a while they sneak up and surprise you in the most joyous and life-affirming way possible. "Bobbing for Crapples" is one of those records.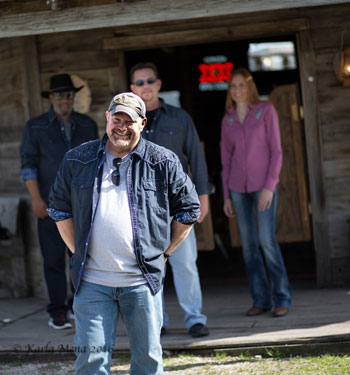 Every note, every word, every song is played to perfection and composed so beautifully that you can't help but be pulled into its world of broken hearts, whiskey-stained glasses and a Southern atmosphere. Uncle Brent and the NostoneMusic Band have crafted what I consider to be the perfect jam album. I simply can't find anything that I would change or tweak; it all flows seamlessly in one complete authentic package.
Now before you climb onto your high horses, 'perfect' here doesn't' mean cutting edge recording techniques, pitch-perfect notes, or sterile digital excellence, and laser perfect arrangements. On the contrary this is more like a live jam or garage recorded album. But for me this album is sheer perfection on every level. Why? Because this is exactly how you should capture the magic of a band like Uncle Brent and the NostoneMusic Band.
You don't stick them into an aseptic, isolated 5ft square room and hope to get the best out of their music. They need to feel their natural habitat, and these songs reflect that raw, rough and ready approach of an exciting jam band playing live in their habitat. Hence 'its perfection'.
The songs bristle with energy, vibe and groove, as if the boys were in the room with you. From the crunchy overdriven rocker "Festiva", to the slow burner "She Moves Me" and the riff infested "Dick" right down to the up-tempo "Worst Foot", Uncle Brent and the NostoneMusic Band rock, ramble and roll with wild abandon. There is not a trace of any self-conscious posing or typical rock star pretentiousness. This is a collective getting down and laying it on the line…as is. And they kick ass doing it!
Therefore, this album goes amongst the collection with Creedence Clearwater Revival, The Marshall Tucker Band, Allman Brothers Band, and Ozark Mountain Daredevils etc. Not necessarily for similarities in sound or style, but for a display of great heartfelt songs, a fearless unbridled sound, and a timeless feeling that too many bands, worried about sounding 'perfect', miss out on nowadays.
OFFICIAL LINKS:
ReverbNation: https://www.reverbnation.com/UncleBrent
ReverbNation: https://www.reverbnation.com/nostonemusic
CDBaby: https://www.cdbaby.com/cd/nostonemusic
FaceBook: https://www.facebook.com/NostoneMusic-150759271650385
YouTube: https://www.youtube.com/nostonemusic
Twitter: https://twitter.com/nostonemusic
Instagram: https://www.instagram.com/nostonemusic
LinkedIn: https://www.linkedin.com/in/nostonemusic-band-03a855124
GigSalad: https://www.gigsalad.com/uncle_brent_and_the_nostonemusic_band_au
Bands in Town: www.bandsintown.com/NostoneMusi
Please follow and like us: