Composition, arrangement, performance, lyric writing, production, artwork –  the single, "So Far Away", is a consummate expression of the contemporary neoclassical art form, blended with operatic and cinematic elements. The music of the collaboration between, pianist Suraaj Parab (India), who produced, composed, and arranged the music, and singer, Sandeep Kulkarni (U.S.A), who wrote the lyrics and performed the vocals, is extremely disciplined.
The instrumentation and playing style is in keeping with a symphony orchestra, while the singing switches between popular theatrical and operatic passages, and the atmosphere is cinematically dark and mysterious, in a song that discusses love and betrayal. "So far Away. Just like a dream. A shooting star. That never seems. You're far away. You never stayed. How could you betray?"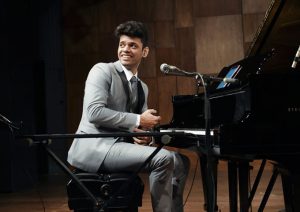 There are some absolutely beautiful and haunting moments in "So Far Away", which demonstrates the full breadth of Suraaj Parab's playing and arranging skills, as well as those of Sandeep Kulkarni, who is in extra fine voice. A vast orchestral arrangement with a superbly intriguing melody interweaves throughout the track, giving the song instant gratification but with plenty of depth too.
"This song's arrangement is based on one of my originals from my second album 'So Close So Far'," explained Suraaj Parab. "When I originally composed this song in the spring of 2018, I wanted to make a vocal version of the song with more of an operatic approach in the singing style. When I told Sandeep about the song he accepted the challenge. To my surprise, he was already taking opera lessons from a renowned vocalist of the Los Angeles Opera. When we completed the recording for the song, I couldn't believe my ears that Sandeep was singing Opera so gracefully in just a few months," he concluded.
In fact, this is where Sandeep Kulkarni really shines, his pitch-perfect, yet naturally sounding voice, oozes passion and warmth, in the mellower sections, while displaying a powerful and ominous resonance during the operatic parts. His vocals harmonize magnificently with Suraaj Parab's dynamic and atmospheric soundscape, to create an ambience that propels the song to something special indeed.
"So Far Away" builds up from a medieval styled cinematic tune, to an elaborate symphonic and dramatic, operatic crescendo. This is very striking indeed. It represents an excellent offering from a collaborative project that remains more than capable of providing the quality of music that many others can only aspire to.
Suraaj Parab and Sandeep Kulkarni have been building toward this climax with their previous work together. Musically mature and self-confident, they show the willingness to try new things. "So Far Away" has a great orchestral structure, many remarkable intuitions and a passionate neoclassical arrangement, with modern cinematic elements weaved in. Unlike many of his genre contemporaries, Suraaj Parab has the uncanny ability to take very complex compositional ideas and render them perfectly listenable and accessible. His alliance with Sandeep Kulkarni works superbly on "So Far Away".
About Suraaj Parab: He is an internationally acclaimed, multi award-winning contemporary classical composer, pianist, and bassist from Mumbai, India. With 2 albums and one single to his credit, Suraaj grew up listening to Yanni, Yiruma, Richard Clayderman, Alan Silvestri, andJohn Williams among many others.
About Sandeep Kulkarni: He is singer, songwriter, voice-over artist and former RJ, living in Southern California, with over 800 shows to his credit. Originally from Mumbai, he has been part of a few bands in the US. Currently the lead vocalist for the SoCal based band "Rusty Rickshaw", Sandeep is also the owner of "Karmik Studios".
Suraaj Parab Links:
Website – https://www.suraajparab.com
Facebook – https://www.facebook.com/suraajparab
Instagram – https://www.instagram.com/suraajparab
YouTube – https://www.youtube.com/suraajparab
Sandeep Kulkarni Links:
Website – https://www.sandeepkulkarni.com/
Facebook – https://www.facebook.com/sandykmusic
Instagram – https://www.instagram.com/karmikyatra
YouTube – https://www.youtube.com/user/sandykmusic
Please follow and like us: