The American rock band from Virginia, Stone Mob, delivers pedal-to-the-metal hard rockers with a distinct approach that is ready to thunder onto the scene. While musically, Stone Mob share a common bone-crushing style with other leading groups of the genre, they are completely original sonically. This is due to the jaw dropping speed and flair guitar work of Blaine "Shred Master General" Kaltman. Blaine replaces blues-based licks, by a furious onslaught of picked, crunched, and hammered notes, making Stone Mob's leads, solos, and riffs the most indelible moments on their songs. Forged in the fresh shadow of today's corporate rock and nu-metal, the Stone Mob sound shows that their musical talent can be a whole lot fresher, energetic, and bombastic.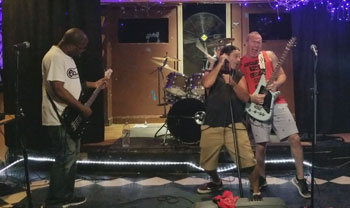 Stone Mob is formed by guitarist Blaine "Shred Master General" Kaltman who has been featured in several guitar magazines, including Guitar World for his inventive and formidable playing techniques, singer Doug "Earthdog" Masterson, Bassist Wil "Mr. Creative" David and drummer, Andy Hamburger, who has played on thousands of movie and TV soundtracks as well as performed with several famous bands. We recently picked up on three video singles by Stone Mob, to see what all the fuss was about. Unlike most hard rock bands who take themselves far too seriously, these fellows put the party back into the genre.
They are trademarking a sound that essentially is offering the greatest rock n' roll party anyone can find. This is happy music. Stone Mob are in it for a good time. And they do a fine job of conveying it, because their sound is as infectious as are their videos. Take the track "Guaranteed (Betty)", built around a theme which involves a body-spray that makes anyone irresistible to women.
How many hard rock bands do you know, currently on the radio, who could inject such ironical, frolicking material like this, into some serious ass-kicking riffing and rhythms? You'd need to go back to the golden eighties of hair metal to find anything vaguely similar, as rock is so pathetically miserable today.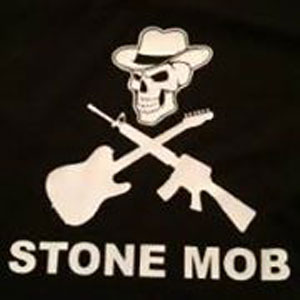 "Guaranteed (Betty)", sees the charismatic Earthdog Masterson, rant and rave, and fill the track with epic anthemic chants, pushed by some scintillating shredding from Blaine. Not far behind, timekeeper Andy Hamburger and Creative David on the bass, make sure the groove has plenty of rhythmic bang under the hood. "Requiem" is naturally led into battle by the axe antics supplied by the immense Blaine.
It comes hard, thick and fast, before Earthdog jumps in prancing and bellowing at the top of his voice in true frontman style. The cartoonized video clip is a sort of tongue-in-cheek introduction to the band, and the soundscape rides on an ever-changing and building blast of atomic energy.
The "Murder Town" video is a live showcase for band and sees them performing at The Pinch in Washington DC. Stone Mob are very concentrated on being a live performance outfit and not a simple studio specimen. Before a real audience the band is able to no just produce its entire technical skillset, but also ignite and burn the vehement energy they have locked up inside.
On top of everything else good about their music Stone Mob doesn't just energize a stale hard rock scene, it polishes it up with Blaine "Shred Master General" Kaltman's loud clean guitar work that lays a new foundation for future shredders, a rollicking, powerful and expressive vocalist in Doug "Earthdog" Masterson, as well as a rhythm section that sounds like a 59 ton steamroller.
OFFICIAL LINKS: WEBSITE – FACEBOOK – INSTAGRAM – TWITTER
Please follow and like us: