A Silver Lining is a five-member alternative rock band from Bay City, Michigan. Formed in 2017, the band is treading new ground with old influences, and re-discovering the sense of purpose and fun in rock music. Their single "Don't Let me Down", taken off their debut album "Paralyzed" is covered in a welcome confidence and swagger that has been disconcertingly absent from the genre for far too long. On this latest offering, we are presented with a concise magnum opus – prepared to weave and shapeshift, prepared to embrace the unknown with reckless abandon, utilizing crunching riffs, pounding percussion, soaring vocals, and scorching lead solos – all of which amplify the melodrama and the band's theatrics – something that the video for the single attests to. In short, "Don't Let me Down" is absolutely massive and immaculately performed.
The band's relentless musical assault, spearheaded by the potent guitar tandem, is very effective, displaying the A Silver Lining power and energy. Backed by ferocious drumming and highly audible basslines the guitars often take the spotlight with their solid rhythms and flashy leads.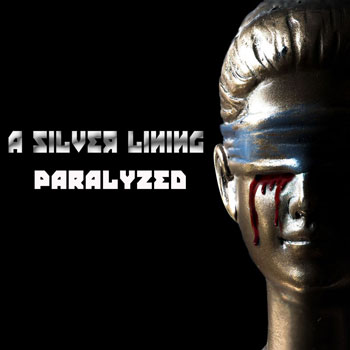 Songs like, "Don't Let me Down", showcases this versatile guitar sound which can be epic, aggressive and harmonic at the same time. The track is engrossing and an incredibly smart choice for the band's first single. The vocals are strong, which is evidenced in the song's incredibly bridge that trails off into a howling chorus.
The song begs humanity to wake-up and look at the history of our existence and see how we need to make the right choices, standing side by side to lead the fight for what is right rather than continue to make the same choices that lead to the same mistakes, destined to make us fail.
The guitars resonate fiercely with a soaring guitar solo, the chorus is fast and heavy, and the melody is perfect uplifting, while the drums shine skillfully.  This song has tons of emotion and most definitely a sharp set of rock hard teeth.
"Don't Let me Down" has that rise and fall momentum.  It allows you to breathe during the verses, then it comes at you with an adrenaline cocktail in the chorus that rushes you into a gritty aggressive smack. It's a sonic journey that is rather impressive!
It usually takes us two or three listens to figure out if we like a band or not, but here one listen was enough. This track is a very clear statement that A Silver Lining want to climb to the forefront of the scene and they demand your ears to absorb and relish in the articulate power of their sound.
OFFICIAL LINKS: WEBSITE – YOUTUBE – FACEBOOK – AMAZON
Please follow and like us: