The brand new album "Saints & Sinners", by Alabama rock band Shallow Side, takes what was learned from their 3 EPs and several standalone single releases, turns it up five notches, and runs with it to great effect. It's a superb collaborative effort between band members and the production by Michael "Elvis" Baskette (Incubus, Alter Bridge, Chevelle, Three Days Grace, Slash) that maintains a consistently high standard throughout. When it's heavy, it's really heavy. When it's softer, it's beautiful. The album wastes no time demonstrating this, going from a brief clean guitar opening on the title track, "Saints & Sinners" to slamming you into a wall of sonic excellence a couple of bars later. This album is loud. You'll learn that very early on with the third track "Sound The Alarm". Thankfully, it doesn't fall into a pit of heavily distorted compression that assaults your ears. The audio quality throughout this album, recorded in Orlando, FL at Baskette's Barbarosa Studio, is crystal clear and it constantly begs you to turn it up.
There tends to be at least two or three songs that I skip on every album, but that's not the case here. There isn't a single bad track here. I was floored by the care and consistent attention to detail throughout this recording. It marks a new high point for the band. Its excellent mixing, mastering, and musicianship make it a worthy addition to the band's discography.
If you are a fan if this band I think this album will shatter your expectations. Right from the opening track, "Revival", Shallow Side throw you right into the deep end of their gritty chugging sound. Soaring lead vocals and anthemic harmonies further push the sonic spectrum into the euphoric zone.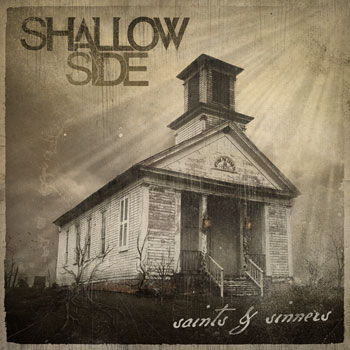 By the time you reach the twisting melody, vocal chants, and catchy hooks of the pressure cooking "Drugs & Lust", you'll be breathless and overwhelmed. You'll thank your lucky stars that Shallow Side turn down the pace (but not the emotional intensity) on "Temptations" before sliding into the bone-crushing riffage of "Hallelujah", where Eric Boatright's lead vocals reach staggering heights.
The explosive "No More" and the thundering "All Rise" showcase Seth Trimble's guitar chops, as well as the rhythmic engine room powered by Matt Daniels on bass and Heath Fields on drums.
Respite again comes in the nick of time with the piano-driven power ballad, "Not Alone", though you know from the structure of this band's build-ups that it is not destined to last the entire length of the song. Which is exactly what happens when Shallow Side switch into overdrive, laying down a wall of sound.
Then there's "Carry On" – a driving, hard-hitting powerhouse right at the end of the set. Not only does it deliver on its obligations as a rock song, but it also manages to pull everything creative about the band, together into one big amalgamation of aggression, dissonance and melody.
The album "Saints & Sinners" is by far the bands strongest, heaviest, and probably their most technically challenging recording to date. At the same time, each song features plenty of catchy hooks that will chase you down from chorus to chorus, as Shallow Side make sure that incendiary rock is still very much alive in 2019.
The band is adept at creating soundscapes that are full of heavy atmospherics and intense beats which ultimately detonate into the ether. Pummeling grooves, contrast soaring melodic vocals and crushing guitar riffs that drip with scrumptious sonic plasma. Deliciously gritty, and wonderfully intelligent, Shallow Side do themselves, and the genre proud with "Saints & Sinners".
The album Saints & Sinners is set to be released on Friday, March 29th via Thermal Entertainment.
OFFICIAL LINKS: WEBSITE – FACEBOOK – TWITTER – YOUTUBE
Please follow and like us: