Sensei J is an artist from Evansville, IN, USA. An anime aficionado, with a penchant for Naruto and DragonBall Z, he has been making music since 15, but only started taking it seriously in 2020.  Sensei J, who plays guitar and makes beats has been influenced by a wide array of artists, including Lil Wayne, Young Dolph, Slipknot, Three 6Mafia, Juicy J, Tech N9ne, and Metallica. Currently working on a "Deluxe" version of "Gokudo", dropping in the summer of 2022, we listened to the original album, to uncover the talents this artist harbors in his skillset.
"Gokudo" is a relatively concise album, with 12 tracks and a runtime of 30 minutes. There is not a lot of wriggle room and Sensei J makes full use of the space he has. Most of the songs are explosive and impacting, with Sensei J sounding ferociously convincing. The opening track, "Sensei Season" has a foreboding synth bass and some mystical keys laced throughout. This track is impressive in that it has not only quality rapping and quality production but also a quality aura.
Lyrically, Sensei J is a monster on these instrumentals, touching on various topics. The song "The Shape" is also equally as hard-hitting as the opener. Lyrically and flow wise, Sensei J sounds as mean as he did on the previous track.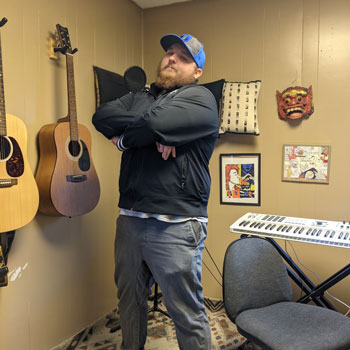 "Mr. Miyagi" has a neck-breaking groove and a staccato flow, before the abrasive and expansive "Rest and Rally" takes over the audio spectrum. Sensei J's high-octane delivery sets the track on fire. The piano-driven "MK Ultra" simply goes straight for the jugular and holds its grip tightly for the full runtime.
"Respect" ft. Dawsin makes Sensei J sound pretty dark and menacing, but that is to be expected with his surefooted flow. As the album progresses, the listening experience becomes more intense, ramping up energy and emotion.
However, "Hustle Pact" gives us a moment of respite, with a steady paced groove that is easy on the ear. The title track "Gokudo" is another blast of lyrical brilliance, as Sensei J unpacks his storytelling skills. His wordplay here is as impressive as ever.
By the time "One Life" springs into motion, Sensei J is already running in overdrive. Listeners are immediately treated to an unprecedented depth of production and a sterling performance on the mic from Sensei J. The rapper's lyrics are both studied and yet approachable. "No Fear" is another extreme showcase of the phenomenal range of Sensei J's style and creative approach to his music.
This album has a very fluid and linear feel, seamlessly charting a path from start to finish with spectacular detours along the way. After each track, listeners are inevitably left wanting more.
"Big Leagues" ft. Dawsin spins yet another web of fascinating lyricism, before the album closes with the slow burning "Dirty Dollars". All throughout this album, Sensei J hits the bullseye each time. His deliveries are immaculate, while the beats are totally on point, creating an incredible aural experience.
"Gokudo" finds Sensei J doing what he does best, unleashing a flurry of bright, versatile bars with ferocity, or with heartfelt emotion. This album is a true introduction to the versatility and top-notch quality of Sensei J.
OFFICIAL LINKS: INSTAGRAM – TWITTER – STREAMS
Please follow and like us: