Overgrown is Sarah Arnold (Vocals) and Dakota Davis (Vocals, Guitar). The two met in Woodward, Oklahoma as high school acquaintances. They found a mutual interest in music and singing, and decided to make it official when they met back up in college. From there, at Southwestern Oklahoma State University, they began their musical journey which eventually led to the release of their self-produced debut EP, "Deep Waters". The liner notes cite the EP as being recorded and mixed in a spare bedroom and a school auditorium, during the freezing Oklahoma winter.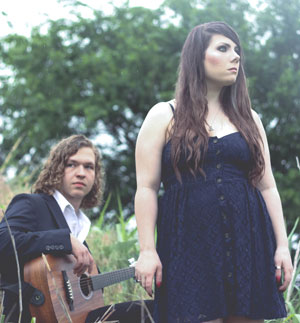 Overgrown's chemistry is suggestively provocative. They don't sing with each other, as much as they sound like they're singing to each other. This feels so evidently palpable to me on the EP's opening track, "Move You", between call and response verses.
The lyrics are evocative and dripping with ravenous longing, Sarah's voice is drenched in lemon and honey while Dakota's is a passionately perfect complement with just his acoustic guitar carrying the soundscape.
You know that you are hearing something very special when listening to this wonderful combination of music and lyric writing, brought to life with the soaring, gentle and moving vocals of these two unique and greatly talented individuals. . They know what they are doing and how to hit just the right nuance in each song.
The instrumental "Rain" is slightly more layered musically with Dakota gently picking his way through the ethereal arrangement. This brings us to "Reach", which sounds like a logical progression from the previous track.
It builds slowly and deliberately and the vocals of Dakota in particular resonate with emotion, building to a lovely climax, as the song begins to unfold, meander and explore its boundaries.  Swooping and soaring with perfect timing; interweaving, separating and, interweaving again, Sarah Arnold and Dakota Davis work their vocal craft into scene-evoking poetry.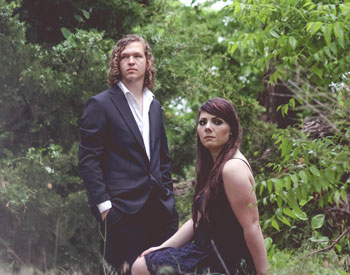 The music in this collection is beautiful in its minimalism approach – primarily just acoustic guitar and two outstanding voices that were made to sing together, but when the more musically fleshed out "Deep Waters" sets off, the album reaches its absolute high point for me.
The sheer soulfulness of Sarah Arnold's voice is finally uncovered in all of its visceral beauty. Liberated of all restraint, Sarah has one of the most powerfully captivating voices I've heard on record lately. Her gravelly switch to falsetto and back has the effect of reaching into your chest and pulling your heart out.
There really is not much more that can be said about Overgrown that has not been said, already. The alchemy that results from the blending of their individual talents is not often heard and I hope that they continue to produce more music for an infinite amount of time.
"Deep Waters" is a recording that reaffirms harmony as a fundamental element in music. Turn out the lights, put the ear buds in, and be transported. You may never want to come back again…
OFFICIAL LINKS: WEBSITE – FACEBOOK – TWITTER – INSTAGRAM – SPOTIFY – YOUTUBE
Please follow and like us: