Washington, DC born, Nikea Marie, is a writer and singer who wants the world to believe that there's nothing they can't do, and she explicitly does so with her single "I Believe In Me", officially dropping on June 18th 2021. A pastor's daughter with a penchant for gospel music, Nikea Marie is also committed to an organization called PRETTY (Pure Righteous Eternally True To You) Girls Wait, which seeks to uplift, inspire, and encourage all ladies to know their worth and attain high standards in life.  All of which already describes an extraordinary women for the times we are living in.
The singer occupies a unique space, stylistically and lyrically speaking, within the urban musical landscape: fusing a traditionalist approach, with a modern, yet retro sound, and clean, positive messages. The through-line of this seemingly disparate mix is Nikea Marie's razor-sharp focus: her ability to dissect all of life's negativity with cutting, incisive songwriting – all whilst retaining a pop-inspired sensibility.
It is this sensibility that underpins the funky, ear-warming sound of "I Believe In Me". The singer's approach to self-empowerment, is cool focused and precise, cutting through, rather than around life's daily issues. "I live my life purposeful. As one door close, you got to know. Another's gone to open, oh," she sings. Not afraid to wear her thoughts on her sleeve, Nikea Marie's confident exuberance is infectious, to say the least.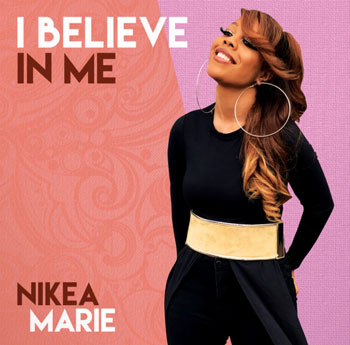 Nikea Marie is embracing the woman she's grown to become today, and now she refuses to hold back the positivity that propels her from day to day. She's found the time to release a majestic project that proves why she should hold an essential position in the modern music scene. Channeling her own journey of self-discovery and self-empowerment, alongside the power of her faith, is ultimately what drives this track.
"I Believe In Me" is the sound of Nikea Marie coming into her own, an obvious talent delivering her first masterwork for the masses. She is incisive writer; a first-rate singer spinning effortless beauty out of personal truths that should be universal truths. This is an artist who makes her reputation on radical diversity from the current mainstream norms, as she delivers a meticulously honed and positive, creative statement with this song.
"I Believe In Me" is without a doubt one of the most contagiously listenable tracks of the year. And to be truthfully honest, the visual packs just as much punch as the record. Apart from her vigorous and infectious energy, Nikea Marie is an absolute feast for any discerning eye, as she carries herself with decorous aplomb from frame to frame. "I Believe In Me" is a soaring anthem, and ode to empowerment, immediately relatable to modern men and women striving to find their way in a harsh world.
Nikea Marie delivers agile melodic lines and pitch perfect choruses, underscored by a thumping beat, resonant basslines and shimmering guitars. She sounds superb vocally, singing expressively and infusing great personality into a solid and inspiring listening experience.
Connect with Nikea Marie on Instagram @nikeamarie and Facebook: Nikea Marie
Please follow and like us: