Admittedly I have been waiting years now for Natalie Jean to surpass her previous levels of excellence; she had arrived quietly with not much fanfare, and she steadily declared her arrival with a number of albums, singles and collaborative efforts. Needless to say I was impressed. Yet, while I immediately acclaimed and understood that Ms. Jean was indeed extremely talented, she had, as far as I was personally (and secretly) concerned, yet to produce anything indicating she was even close to showcasing what I suspected to be her fully unrealized potential—that is of course until I listened to "What Would You Do For Love?"
I had been relaxing, the day I heard the song for the first time on my reviewing playlist. I was literally daydreaming, until gradually lulled from the void by what I couldn't see, but could only hear: the rhythm was steady and uncompromising, the melody relentless as the voice singing easily pulled me from my semi-torpor. Once acknowledging that it was Natalie Jean who had pulled me, I actually smiled, for I am always greatly pleased when an artist finally becomes what I feel he or she was meant to be.
My smile broadened as I listened to Natalie deliver a show-stopping exhibition worthy of both her hard work and her immense talent, which, I know, could've only happened when it did – right now. By this I mean, the years leading up to this track  which were spent honing, maturing, developing, and becoming….THIS Natalie Jean!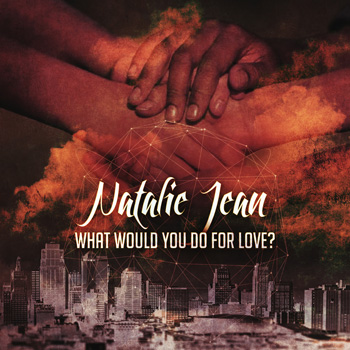 "What Would You Do For Love?" is as close to perfection as it gets – not a note is wasted, not a verse senseless, overlong or discordant; each bar is crafted, skillfully put together by an artist and production crew, who know something about their work, which, regrettably, seems to be rare these days.
The lyrics are meaningful, poignant, and urgent; the songs displays a powerful sense of social awareness as Natalie Jean understands that emotion, without subsequent action, is as tenuous as vapor.
The song places an exclamation mark on various pages of her bravado displayed in the past, and is further indication that Natalie proudly distinguishes herself from too many other female R&B/Pop singers, who prefer to say not much of anything worth hearing, who choose to spew stupidity and expletives while using their forum to degrade themselves and other women.
Lastly, what impressed me most about Natalie's latest work, is that it is clearly driven by passion and awareness. From its searching overture, "What would you do for love", one hears Natalie's heart and soul, beating in the voice and in the melody; one certainly hears her in the track's refusal to accept classification—it is as much an R&B song as it is a soul song, as much a pop song as it is a rock song. It is a universal song.
Natalie fuses elements of each into a magnificent example of what incredible things can occur when an artist permits themselves the time to hone, develop and mature, to ultimately become who they are…and what they were always meant to be!
MORE ABOUT: Singer, songwriter and performer, Natalie Jean is an award winning songstress and voting Member in the Recording Academy (GRAMMYS), who has already totaled 70 nominations for various musical awards, was also the Gold Medal Winner in the 2017 Global Music Awards for Female Pop Vocalist. She has performed at many venues in the MD/DC area, while making an impact in LA, New York, Nashville, and North Carolina.
OFFICIAL LINKS: WEBSITE – FACEBOOK – TWITTER – YOUTUBE – INSTAGRAM – ITUNES
Please follow and like us: