Born and raised all over NY mostly the Bronx. Myss UneeK is a creative artist, who does everything from acting, dancing, and gymnastic to directing, editing, and writing. Myss UneeK is also published Poet and author.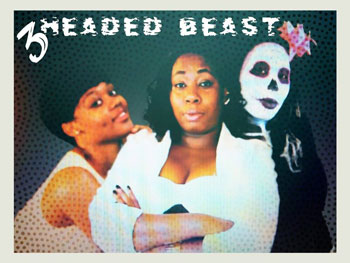 An activist, very passionate about children rights Myss Uneek is a national Spoken word performer who has performed in places like the legendary Drew Blues Café in Sumter, SC to VIMS, Karma's, The Boudoir Bar, The Legendary Nell's, also Harlem's Sugar Shack, among others.
Myss Uneek is using her poetry to teach and inspire, as well as helping to move the artistic format into mainstream focus. Now from the '3 Headed Beast' Mixtape, she releases the single "Class Lesson 100". The mixtape contains a set of songs that deal with social and political commentary.
These are songs with a power and fury which will be enduring. Myss Uneek drops in-depth observations and stinging, open-ended questions to the problems that afflict our society and its political class. Her poetry can be shocking, but it forces you think.
Myss Uneek's narratives are usually backed by a variety of soundscapes – from jazz to alternative beats, on "Class Lesson 100", she steps right outside of that box with a vocal tirade placed over an atmospheric cinematic backing, made up of lush strings and choral harmonies.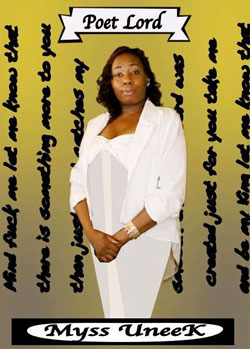 "Class Lesson 100", subtitled "A lesson for terror sake", looks at terrorism, and its causes and effects, from a whole new angle. Myss Uneek goes in hard and pulls no punches. She scowls and barks with the righteous anger of a front-line revolutionary soldier, as well as the visionary tenderness of a prophet who truly believes that we need to keep our mind's eye working if we want to see the bigger picture that politicians are trying to paint, more clearly.
And from within her analysis of terrorism, Myss Uneek continues to explore and unravel the injustices and inequality that exists in society.  "Class Lesson 100" is a potent, cynical warning, and also testament of one of the most deeply unsettling periods in American and World history, as far as terrorism is concerned.
Myss Uneek bemoans our fate, hurling poisoned darts at corrupt politicians, greedy corporations, and apathetic citizens with equal parts of poetic virtuosity and sheer outrage. This is her wake-up call. Are you listening?
OFFICIAL LINKS: FACEBOOK – YOUTUBE – SOUNDCLOUD – ITUNES
Please follow and like us: