It's not often that a song comes along which is so resolutely more significant than the relatively restrained sum of its parts. "Waves", is one of those tracks, a record which really does, for once, have the X factor. It's hard to describe the actual sounds of this song without it sounding clichéd. Yes, MIIKØ's music here is fairly minimalist, primarily acoustic folk, with layered electronic embellishments and crystal clear vocals that smack of sweet sentimentalism. It's a gorgeous sound. A demonstrative template for how organic and nuanced a modern day producer can be; incredibly simple chord progression, lovely warm voice delivering poignant, one-liners about love, all topped off with some impressive lush layering as it goes along.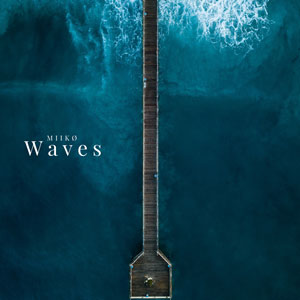 Since I've been listening to "Waves" it has slowly been working its way up my favorites list. It's the kind of song that feels enchanted, like it's been given some sort of unfair advantage against other music by just having this innate sort of depth, an inherent sense of meaning, a multi-dimensionality which other folk-based music seem to lack so pitifully today. By the time you reach the closing bars, on your first listen, you'd have to be pretty stoic to not be at least a little more affected than you normally are by this type of music.
There's something so moving in the man's delivery, so profound in his poetry, that this reviewer couldn't help but be utterly taken in by it. And whilst it might well seem like I haven't actually given a sufficient reason for the song's ability to tower so effortlessly over its peers in the genre, that's most likely because the reason has to be experienced by listening.
There's simply some magical ingredient, some perfect quality which "Waves" is naturally imbued with, and it's something that's severely lacking in most music today.
I could say its MIIKØ's endearing vocals. I could attribute it to Robb Simon's picked acoustic guitar, which glimmers like a firelight to the music. It may be the echoed harmonies, or the gentle shimmering piano keys. It's definitely all of those things…and then something else.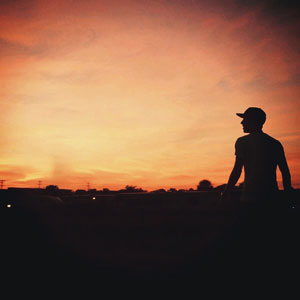 It is hard to think or even ponder that this music could be tweaked into something more stunning. Most notably, MIIKØ manages to retain the same intimacy and immediacy of a singer-songwriter recording, while operating in a completely different format.
MIIKØ's voice is another main draw: elevating to angelic heights and then descending to a low breathless declaration, all within minutes. He's never flashy or over sings– sometimes he allows his vocals to blend in chameleon-like with the soundscape, where it essentially becomes just another instrument – all the while he stays effective, often perfectly so.
His music is emotional and powerful, and is more than capable of delivering meaning beyond the confines created by simple language and sound.
MORE ABOUT: Michael Obrycki, artistically known as MIIKØ, is a multi-instrumentalist, music producer, and audio engineer, from Ohio, who recently began expanding artistically as a singer-songwriter. He is currently working on a solo project as well as a collaborative project with Adonis Butler. Both projects are expected to be released in 2018. He has also produced songs for artists such as Lindsay Cardy, James DeMuth, and more. "Creating music and putting emotion into all of the work that I touch, is my true passion. Making timeless music," says MIIKØ.
OFFICIAL LINKS: WEBSITE – TWITTER – INSTAGRAM – FACEBOOK – MUSIC STREAMS
Please follow and like us: