Mars (Ezechukwu Emmanuel) and Barzini (David Nwobodo) are Nigerian artists, who are both still students of the University of Nigeria, Nsukka. They have come together to curate a new African sound they call 'AfroGroove'. "Oluwa Nagode" is Mars and Barzini's first collaborative single. You have to be ready for a totally different listening experience! The rhythms, instruments, and voices are of the urban kind, but the way Mars and Barzini apply their craft gives the whole project a refreshing twist.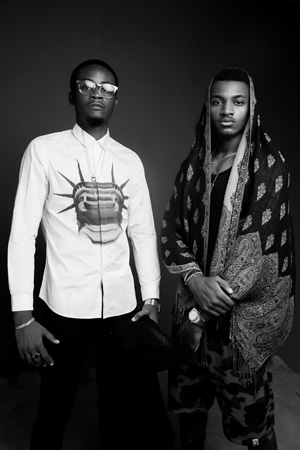 It's exciting and adventurous to get out of your security blanket, and be open minded to totally different cultures and musical artists that represent them. This learning experience teaches you why music is called the universal language.
"Oluwa Nagode" as a single and video, is an ambitious outing, as the duo push their talents redefining what Mars ft. Barzini can and will do on an international scale. The track is artsy, edgy and flat-out ballsy as the duo tear through the hook and verse like men possessed, moving at an intense pace.
Mars ft. Barzini exude swagger and a sense of being unbothered, unburdened, and invincible in what they do. And even though there is plenty of room for fun and upbeat music in the AfroGroove genre, Mars and Barzini concentrate on a storyline that seems to have serious overtones, judging by the video.
This Nigerian collaborative music project will no doubt force their way into public consciousness with this introspective anthem. Their energy will ignite audiences as there are many pleasures to be found in their music and performances.
They chart a different but still familiar path: they prove that every youth explosion is eventually tempered by the grind and hard-won rewards of grown-man work. Furthermore Mars and Barzini have a charisma that makes their collaboration work. There are also real signs of musical development on "Oluwa Nagode" that point to longevity for the two artists.
The track is aimed directly at the edge of mainstream and will hit home with fans of Trap, RnB and Rap, and will probably broaden their appeal to many more fans. The record's integrity is also rooted in the solid production by Eclipse, and paired with a brilliant video, directed by Mex Films.
"Oluwa Nagode" expands Mars and Barzini's soundscape and subject matter, showing an impressive level of depth and range. The duo is a match made in musical heaven.
OFFICIAL LINKS: SOUNDCLOUD
Instagram: @marseze @iambarzini
Twitter: @marstgif @barzinitweets
Please follow and like us: