This year has brought us some of the most talented and diverse artists in rap and hip-hop around the globe. Each of these artists possess their own unique sound and talent to bring to the audiences. Among them is LXRY LB, an independent artist on the rise. He is taking his vibe to the streets with witty punchlines and unique sound. Based in Greensboro, NC, LXRY LB is an American rapper, songwriter, fashion designer and multimedia artist. He began writing music while in the 5th grade inspired by his cousin Matik, after discovering his notebooks filled with raps. LXRY LB joined the military after graduating from high school, and was deployed to Kuwait in 2012. It was there that he was first introduced to a recording studio, and began performing live at company events. He eventually went AWOL and returned to the United States to pursue a musical career.
Determined to put out good music as a solo artist, he has been hard at work delivering songs with his own unique style and flow highlighting his originality. With upbeat melodies mixed with an undeniable vibe that pours from each of his tracks, this independent artist is determined to carve out his own success to mainstream music stardom.
Currently LXRY LB is peddling his novel new single "So Fresh So Clean". Its catchy vibe makes you want to move your feet, and nod your head vigorously.  The music will pull you out of real-life and on a journey through the many dimensions of LXRY LB's naughty and witty sound.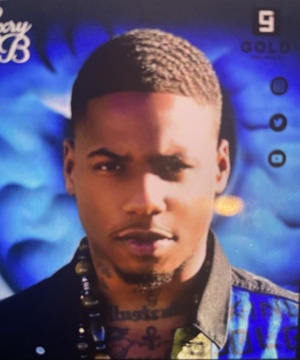 Running on a foundation of heavy breathing, rumbling basslines and skittering percussion, the mix and production is impeccable, and is nothing like we have heard. New flows, new production choices, and a whole new level of energy.
The song is over in just under one-and-a-half minutes so don't expect an overlong narrative and a complex lyrical theme. Instead, be prepared for snappy rhymes, sharp wordplay and explicit thoughts that fly by on fluid flows.
LXRY LB knows how to grab and hold your attention. The rapper's breathless approach is fully realized as he bobs back and forth with his mesmeric mantra: "Her ass so fat and so fresh and so clean," until it sinks deep into your subconscious.
"So Fresh So Clean" has the benchmarks of his region's rap, but it's tweaked with his unflinching wit and captivating, exuberant voice. LXRY LB ratchets up the energy and the vibe with every word on the track. His cadence and one-liners will rattle in your head for weeks, especially when he throws shiny gems like: "cause you're fucking with a G, and don't forget the O and don't forget the D".  And there many more of these hidden inside the lyric sheet.
"So Fresh So Clean" is a deliriously fun mix of groove-inducing music. There can be no doubt that LXRY LB's sharp perspective is destined to spawn many more cutting tunes in the near future.
Toeing the line of ultra-trendy hip-pop, LXRY LB's music feels like being transported into a surreal world, fueled by his one-of-kind flow and kinetic wordplay. A new year symbolizes the beginning of emerging music artists ready to make their mark in the industry. So watch out for LXRY LB in 2023.
Stream his music on all major digital stores and connect with him on Instagram @goldforsouls.
Please follow and like us: