Born Jean David Germain April 11 in Pahokee FL, LJAY grew up in Belle Glade where he found himself getting into a lot of trouble throughout his childhood years. LJAY's parents eventually moved to the Big City also known as West Palm Beach, in search of a better living and opportunity, but things quickly began spiraling down for LJAY as he found himself getting into even more trouble. LJAY soon found his love for music after an inspirational freestyle to himself. "VR ME" is LJAY's brand new single which will be purchasable via major digital download stores officially, from November 16, 2016. The mixtape – "CONSISTENCY" – from which the single is taken, will follow with a New Year's Day release date already set.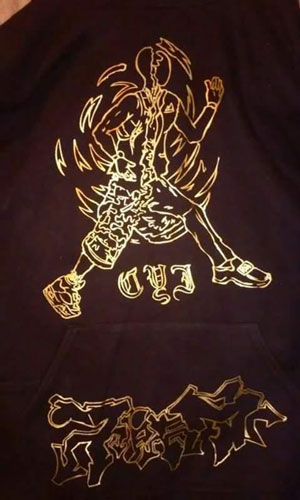 Rap artist LJAY will no doubt grab everyone's attention with this release. The streets will be introduced to his authenticity, unique flow and rhyming style. He captivates with this passionate street love song delivered in an earth-shaking baritone voice.
LJAY definitely strays away from the typical rap agenda while still maintaining his street credibility and swag. He makes something anyone can relate to, grabbing the attention of a broader audience and giving everyone something to ride to.
LJAY is a multi-dimensional rapper with broad lyrical range and ability, but he adds to those accomplishments with an undeniable presence and charisma. His flow has a narcotic effect and his simple melodic hook is lethal in its potency.
LJAY pulls the whole deal off without ever sounding forced or over-anxious to prove his worth to anyone. He just glides through the process on "VR ME" with a smile and a grin that will draw listeners in. He is also ably backed by a bouncy EDM soundscape which further adds a joyous vibe to the proceedings.
For those looking for their music to inspire and motivate, LJAY may be the answer, but he also knows how to use his skills to nod some heads, while he seems far removed from the negative stereotypes and aspects that often plague hip-hop. "VR ME" stands as another example of how to blend the dope game with hip-hop music.
LJAY words are twanged out to give his flow a supreme musical range. His trademark is to finish each line with a brilliant punch line. It's a simple pattern that is easily transformed into something catchy. LJAY has tons of range, using his voice like an actor.
All of it delivered in an unmistakable deep tone. The deep tone is LJAY's invention, but he needed the right music to put it in the proper context, and his choice of beat here is nearly pitch-perfect. In fact the beat is exquisite, making the whole track unbelievable in its direct simplicity.
Ladies and gentleman, LJAY is in the building with "VR ME", where admiration and power will eventually come naturally!
OFFICIAL LINKS: SOUNDCLOUD  – TWITTER
Please follow and like us: