Lilpe$o is a 22 year old artist from Northern California. He started making music in 2013, and a few months back released his mixtape, entitled "Wavy Season" featuring the talents of Lil-C. One thing that always impresses me with these new crop of rappers is the infectious energy that each one brings to the table. The genre of hip hop is heading towards a more quirky style of music and one of the new up comers from this interesting group is Lilpe$o. This mixtape is a thicket of potential chart-climbing tunes, awash with warm synths and thumping basslines. Lilpe$o's energy and staunch confidence keeps the tracks enjoyable from the opener, "Air It Out" [Prod. Slight x Swvde]. Pride emanates from the verses on these songs which are sure to make for some exciting listening moments.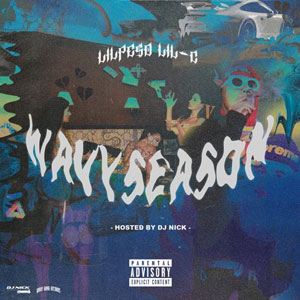 At times, with Lilpe$o's bravado and smooth melodies it's hard to keep the chorus from getting stuck in your head. This happens fairly quickly on "Bagz" [Prod. Reddrum x Bighead]. The flows Lilpe$o uses on "Busy" [Prod. GTS] are super unconventional he goes from higher pitched, to normal, and then deep and slower.
The highly infectious nature and slightly morbid musical concoction creates the perfect mix on "Let It Go" [Prod. Bighead]. From start to finish, the album is full of songs that are more slow-paced and ruminative, reaching its apex with the slow-burner "Real" [Prod. Hvgo].
"Hit" [prod. Bighead] sees Lilpe$o join forces with Lil-C. The easy chemistry between them is immediately apparent. The duo bounce off each other's vibe and rap styles as though they've studied each other; their warbles revealing a melancholic track under a dark but glossy production.
They repeat their collaboration on "Talk On Me" [prod. Bighead], each claiming enough room to glide across the song. The charisma comes from the way they sing and rap, which is polished, melodic and engaging. As an artist, Lilpe$o strengths come out on "Leave Me Lone" [Prod. Slight], and especially on "How U Drippin" [Prod. Wheezy x Beatmonster].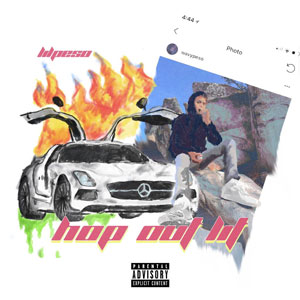 Delivering a cool, counterbalance of grounded verses and vocal drops, he does his job effectively enough to be a standout presence in the mix, on these songs. While the flagbearers of trap rap have managed to make the genre an empty sounding one, the newcomers like Lilpe$o are proving that there is hope for the future of rap.
The dynamic of trap rap has always been about energy, but both Lilpe$o and Lil-C prove on "Wavy Season", that you can take it down a notch and be mellow and mesmerizing. It's impossible to not vibe with the slow groove on these tracks.
And if you still have any doubts, tune into the final track by Lil-C, "Like That" [prod. Bighead], which infuses yet another new flavor into the mixtape's melting pot. He's got a wily delivery and inventive melodic instincts.
All-round "Wavy Season" is a ride through the mind of a rapper who is one of the genre's intriguing new underground faces. Lilpe$o is a creative storm that is balanced with a clear musical formula, allowing his voice to melt into the instrumentals. His songs are sticky and buoyant, and he knows how to turn a memorable phrase.
OFFICIAL LINKS: SOUNDCLOUD
Please follow and like us: