Troy Bolton and Gabriella Montez come from two different worlds: Troy the Basketball God and Gabriella the Smart, Stunning Geek. When they meet at New Year's Eve they instantly click. When they meet each other again at East High School, they accidentally audition for their high school's musical. The social cliques they belong to don't approve of this new friendship and try to separate them. At the same time, drama queen Sharpay Evans and her brother Ryan, the co-captains of the Drama department, try in every way to prevent Troy and Gabriella from winning over them in the callbacks. Can Troy and Gabriella lead their friends to a more open-mind thinking and acceptance of one another, or will their friends win? Sound familiar?
Yes. It's the plot summary from 'High School Musical', a 2006 American musical television film written by Peter Barsocchini and directed by Kenny Ortega, which became one of the most commercially successful Disney Channel Original Movies ever produced.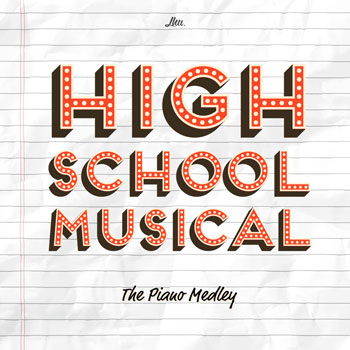 Thirteen years later Lhu Wen Kai – a multimedia artist from Singapore – releases a piano medley of songs, entitled "High School Musical Piano Medley", arranged to reflect the narrative arc of the film. Lhu who works as a graphic designer and filmmaker in addition to his musical pursuits, conceived the project as a way to pay tribute to the movie that inspired him to create music.
Most of the piano music I listen to is from the classical or jazz genres, but I love the instrument and was immediately interested in hearing this recording. It is fantastic and I immediately understood why it is popular and has had rave reviews.
It is a captivating performance, where Lhu Wen Kai makes his piano sit up, roll over and play with a deft omnipotence. A transcendent piece of music in its own right, Lhu concentrates on the mid-ranges, accentuating the instrument's powerful resonating potential, creating a sound that is as instantly impacting as it is nuanced, to comprise the movie's storyline.
Lhu Wen Kai sounds like he was playing from his heart and soul. Like many others, I love this recording, and also appreciate Lhu's technique and skill, which he possesses in equal measure in both hands; but it's the music itself that matters most, and Lhu spins 12 beautiful arrangements within the 14 minute plus mashup score.
Lhu Wen Kai's playing is all about the mood. He controls your mood, takes you where he wants you to go and changes your emotional tone accordingly. I am captivated by the way the different passages build and grow and fall back again, but mostly it's the emotional energy you feel from Lhu himself. "High School Musical Piano Medley" will take you to places inside your own heart, you were last at, 13 years ago. Get it, put it on, and let it sweep you away.
OFFICIAL LINKS: YOUTUBE – SPOTIFY – ITUNES – FACEBOOK
Please follow and like us: