The single, "Echoes In Eternity" occupies a relatively unique space in the field of instrumental guitar tracks, as Kyle Mikolajczyk a.k.a Kyle 313 is far from showy despite his clear virtuosity. For those dubious of guitar instrumental music overall, Kyle's approach to composition is focused on memorable music. His guitar playing is deeply expressive, carrying the nuance and simplicity of vocal melodies rather than noodling wildly just to show off virtuosity. Raised in the suburbs of Detroit MI, by 3rd generation Polish-American parents, Kyle received a mini Red Stratocaster mini for Christmas when he was six years old.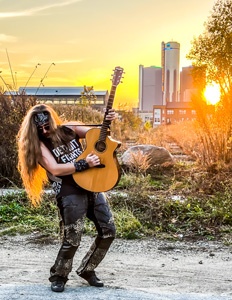 This raised his musical interest and by the age of 10, he was devoting most of his time to the guitar. By 15 he was a band roadie for Kro-Magnon, and a year later was the bassist for the same band who went on to be voted "Detroit's Best Metal Band".
After the demise of Kro-Magnon, Kyle Mikolajczyk concentrated on launching his own projects, such as HazardHead, and exploring a plethora of genres, including Blues, Metal, Psychedelic, Punk, Pop, Pop Punk, R&B & Hip Hop.
He has also performed in multiple bands at some of Michigan's most historic venues. A fundraising humanitarian, Kyle Mikolajczyk is also a multi-instrumentalist who plays the guitar, bass, drums, harmonica, as well as handles vocals.
Supported by delicate strings, subtle but dynamic drumming and a light framing of acoustic guitars, "Echoes In Eternity" is evocative of those thoughtful moments in time; mellow, with only your thoughts and a drink for company. It has a surprisingly reflective aura for what is actually quite a lively arrangement, perfectly communicated without saying a thing. The product of this approach is a supremely listenable blast of original guitar music.
Kyle Mikolajczyk is able to add spectacular guitar flourishes all across the track to provide that all-important extra depth to the song. Right away on "Echoes In Eternity", Kyle reminds us that he is so much more than just a bombastic rock or metal guitarist, and that he has a powerful compositional sense to be envied. He delves into alternating between impressive shred passages and more melodic sections where he articulates his notes like a singer.
This is Kyle Mikolajczyk at his sophisticated best, combining his natural guitar-playing fire with melodic thoughtfulness. In fact, "Echoes In Eternity" showcases Kyle's ability to combine technicality and melody in a flawless and shining yet subtle and uncontrived musical arrangement.
The musician thrills and mesmerizes throughout, while never overwhelming with unnecessary shredding or soloing. With an emphasis on melody, he uses his guitar to deliver easily digestible lines for the listener, with just enough required skill to evidence his prowess.
"Echoes In Eternity" is a really good piece of work. If you've previously been dubious of these sort of instrumental guitar-driven track, don't be on this occasion. It's a really enjoyable listen, that flies by in no time. Kyle Mikolajczyk has the world of music under his fingertips, crossing genres and creating endless possibilities for himself.
OFFICIAL LINKS:
@DJMetalAfro on Instagram, Twitter & Facebook
@313RNRMessiah on TikTok
www.kyle313.com
Please follow and like us: