"Out Of The Abyss" is an EP by solo artist KrzyFr33, out of Long Beach California.  The recording finds the artist in a clearer and more focused headspace than ever before. It's a buoyant, lively project, one crafted by a musician evidently content with the space he's found in the music world. KrzyFr33 is not strictly an optimist, as he is aware of life's complexities, but at the same time, he is able to move comfortably within this turbulent universe. He makes full use of vibrant and emotional imagery in service of expansive alternative rock bangers and poignant ballads in this 7-track EP project.
The project kicks off with the infectious mid-tempo beat of "The distance with you".  KrzyFr33 brilliantly conveys all of his feelings in one heartfelt and engrossing track. "I'm ready to go the distance with you," sings the artist, as he unpacks the outspoken narrative. KrzyFr33's honest lyrics are pure poetry to the ears on "Color me gray", as is the shimmering jangle of the guitars and the steady rock solid beat.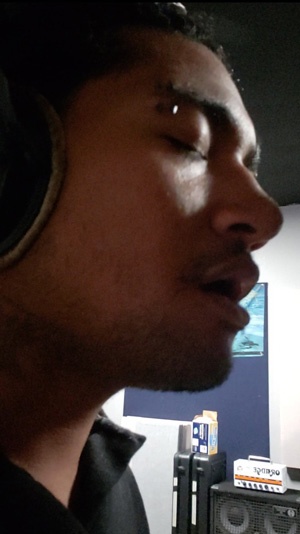 KrzyFr33's great power as a vocalist, beyond his beautiful, mellifluous tones, is his ability to completely inhabit a song, to take it and infuse his entire being into it. This is exactly what he achieves on the propulsive drive of "About her".
Of course, the stories he tells are extremely powerful, as can be heard on the melancholic sweep of "Until the end". The song is packed with powerful quotable lines and indelible musical touches that become engraved in your mind.
"Far too gone" ups the ante, in terms of intensity and pure rock bombast. The track possesses the ability to make the listener truly feel for every second of its listening time, as KrzyFr33 turns up both the anthemic and melodic dial, allowing his voice to soar.
"Life upsidedown", quickly flips the sonic template into a dark and somber aura wrapped inside echoing vocals and an ominous soundscape. Every emotion-seeking listener will be treated to something truly special here.
"Rock bottom abyss" is an expansive and epic cinematic-styled, metal-induced arrangement, which mixes both melodic and harsh vocals, underscored by bone-crushing riffs, rampant percussion and screaming synths.
On top, KrzyFr33 delivers a gut-punching performance. He is an empathetic songwriter that often tries to share his experiences through eyes and ears of his listeners. This closing track is an out-of-body, storytelling masterpiece, filled with melodrama and pathos.
On "Out Of The Abyss", KrzyFr33 goes right for the gut with a laser-sharp songwriting knife, in an unrelenting ritual of emotional evocation. The hardest thing for a songwriter to do is to write to their vocal strengths, so the emotions can come out in their tones and not just their words. KrzyFr33 succeeds in doing just that across the entirety of this project.
KrzyFr33's ability to observe intimate specifics in life and love will speak to all universally, and put you back in a place where you can reconnect with your own personal emotions and experiences. "Out Of The Abyss" is concise, deft and powerful.
Connect with KrzyFr33 on Instagram at https://www.instagram.com/krzyfr33
Please follow and like us: