"SODA (Straight out da ARK )" is a project by Killa €, D.R.E. Dey Recognize Effort, & BackWoodz J_Thurm, three artists who are signed to the independent record label Paper Chaser Association. This is a barreling, intense, and glorious album with all rappers on mean-mugging verse duty. These spitting emcees deploy their no-nonsense lucidness to persistently winning results on their latest offering. The artists all douse their verses in swaggering panache, and that energy seldom relents. These are serious men with serious contemplative sides, which they demonstrate on "Bet", featuring Killa € and D.R.E. Dey Recognize Effort. The track is a pure, unbridled triumph; the keys glide, the basses groan, while Killa € and D.R.E.'s booth authority seeks to upstage the beat's well-worn showiness. Few things are sweeter.
I've always had a problem with albums from multiple musicians. They are typically ruined by overly ambitious song selections trying to give equal billing to all involved. You usually end up with a collection that is one-third not-quite-there, one-third artistic prime, and one-third where everybody is trying to upstage everyone else; and everything sounds out of context.
The triumph of "SODA (Straight out da ARK)" is that, by purely sticking to its artists' most important skills, they have created an album full of great songs, all of which are balanced and fit in to a context. That context is the essence of Killa €, D.R.E. Dey Recognize Effort, & BackWoodz J_Thurm and, by extension, Arkansas hip-hop.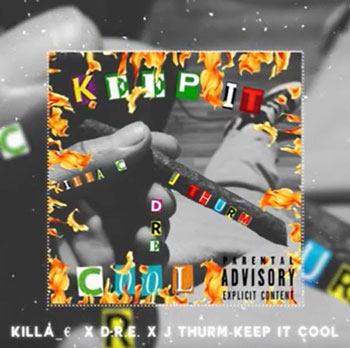 On "Keep It Cool", Killa €, D.R.E. Dey Recognize Effort, & BackWoodz J_Thurm, ride on a minimal but booming groove, as the crew continues to lace us with nothing but straight game. They all have special voices and deliveries and you just cannot decide which one is better.
Another thing that makes this album so unique is the production. It's amazing, on many parts is not just great beats – its music. Listen to how the simple chord progressions on "So I Can See It", featuring Killa € & BackWoodz J_Thurm, lays down a slow, whirling backdrop for the rappers to design an ambling word-scape of playful rhymes with a pinch of naughtiness.
The freestyle, "W.T.H.T.S (When They Hear This Shit)", featuring Killa €, D.R.E. Dey Recognize Effort, & BackWoodz J_Thurm, is another display of bravado. The crew's laid-back flow is engaging and charismatic, and is guaranteed to have you nodding along.
The flow of words on "Rolling In The Saloon", featuring Killa €, are like blades that cut through fine silk cloth, while the producer deserves a notable mention for crafting an incredibly eclectic beat. Moving forward, this album has a varied cluster of great songs.
Looking at "SODA (Straight out da ARK)" from an objective standpoint, it's clear that there is much more than the exterior imagery displayed.  Killa €, D.R.E. Dey Recognize Effort, & BackWoodz J_Thurm, approach the genre with a different style to their contemporaries. They control their attitude most of the time.
They express their rhymes not through beastly anger or exploding bombast, but through lyrical resilience. The first thing listeners will notice about this collective, is their ability to spew phrase after phrase in an impacting manner, without the need to shout and scream. Each of the members holds their own stylistic dialect strong while expressing their mindset and emotional spectrum, on an album that is articulate and committed.
OFFICIAL LINKS:
https://www.instagram.com/killa_c2011/ (Killa €)
https://www.instagram.com/deyrecognizeeffort/ (D.R.E. Dey Recognize Effort)
https://www.instagram.com/j_thurm/ (BackWoodz J_Thurm)
https://www.instagram.com/tharealpca/ (Paper Chaser Association)
Please follow and like us: