KAATO is a Nashville, Tennessee based rock band made up of Kurt Lowney (vocals), Mika Nuutinen (bass), Hunter Lovan (lead guitar), and Christopher Williams (drums). Originally from Australia, the band was founded in 2011 by singer/songwriter Kurt Lowney. KAATO had their first international tour co-headlining with Mitch Malloy in the UK after their self-titled album was released in 2016. Kurt and Mika made the move to Nashville permanent in 2018, and started work on their newest album "Slam!" from their home studio, which allowed them to fine-tune their sound until they got exactly what they wanted. It's fair to say that mainstream rock is a dying breed, due in part to both the growing presence of EDM and the relative omnipresence of hip-hop. Furthermore, because the art of mainstream rock is slowly fading away, bands often experiment with their sound to appeal to a larger audience, known colloquially as 'selling out'.
I will not lie, I was apprehensive as to what would be the quality of this album. However, to my surprise, "Slam!" is just a great rock album that blends in different styles from Classic to Vintage and Glam rock, with some subtle southern flavors, comprised of soaring vocals and fiery guitar. It is tailor-made for blasting to a packed arena.
The album starts with the fantastic instrumental opening title track "Slam!" which sets the tone for the rest of the album. The song is laden with fullness in its sound, with memorable guitars, and noteworthy drums which put forth a good deal of emotion, reminding me a bit of legendary band Bad Company.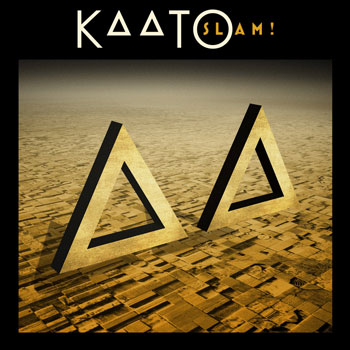 This leads to "Glamour Queen" which sets the whole band in motion, including some high range vocals, and a driving groove. This instantly shows how KAATO seem to have a grip on how to make great rock songs without watering their sound down.
The band turns up the sonic thermometer a couple of notches on "Somebody, Somebody", forging some down and dirty guitar riffs and shy-high harmonies. The vocal progressions on this track, and on the entire album, for that matter, is nothing less than stunning.
Fans of hair metal hysteria will be covered in bliss by the virtuosic lead vocals on "Addicted". Here Kurt Lowney reaches peak levels of power and range.
Lyrically and otherwise, "In Passing" is probably the best cut on the album and once again accentuates the beautiful vocal melody and dynamic instrumental interplay. The song digs deep into the human soul with its dramatic execution. The songwriting and the transition from quietness to aggression is noteworthy.
KAATO does a fantastic job of capturing a crisp upbeat sound on "Communication". Guitarist Hunter Lovan, comes into his own here, with some scorching tones. A driving beat and energetic bassline and guitar riff to boot, "Drivin' Home" delivers a fast-paced jam that renders all the best of what vintage rock n' roll has to offer.
Overall, "Slam!" was a surprising album that really resonated with me. With a lot to show on this album, I feel like KAATO have proven that they authentically know, the twists and turns of a genre that once ruled the world, and that they will be alive and well for many more years restoring rock to its former glory. "Slam!" is definitely an album worth checking out.
OFFICIAL LINKS: WEBSITE – INSTAGRAM – TWITTER – FACEBOOK – REVERBNATION – ITUNES – SPOTIFY
Please follow and like us: