Juliana B is an American singer song writer from San Francisco featuring pop, dance and country genres. On her single, "On Your Own", Juliana B's sings with an appealing resonating power, throwing around attitude like as she breezes through the song stocked with surging percussion and rhythmic drive. Her brassy confidence and natural ability, immediately feels impressive. But what makes Juliana B unique, is that she takes her cues from many different styles.
The songstress swaggers her way around the muscular new wave rock of "On Your Own", her voice cutting through a wall of synths and a steady, pulsing beat. Accompanied by a steady, relentless bassline you can't help but move to. This track is ready for the dancefloor or a daily workout. The nostalgic sound of the song also adds to its allure.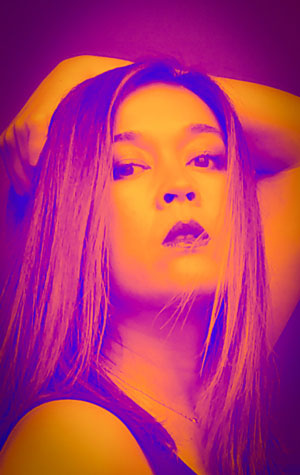 Catchy and mainly compelling, Juliana B's voice is what stitches "On Your Own" together. The sound of which is virtually floating in musical references from a myriad of eras. Juliana B sings her heart out, invoking a fire and spirit that many of her contemporaries can only achieve with the aid of Auto-tune.
In fact, Juliana B uses her tool to create something wonderful and magnificent. "On Your Own" is a track that is easily enjoyable throughout every second; it's everything you want from a single.
However, if there's one reason to listen to this track at all, it's Juliana B's voice. She takes control from the opening bars and asserts her vocal strength. Juliana B is able to maintain the song's powerful momentum. Exhibiting a confident performance backed up by layered harmonies, she jams out with an expanding backtrack that grabs the listener and pulls them in.
Using an interestingly modernized version of a call back vocal style, Juliana B moves between moments of hard and soft timbres. The song is catchy and upbeat that one might find themselves singing the backup vocals and being but sucked in by the high-energy vibe. She writes without flinching, building lyrics and music with a strongly personal flavor.
Running through her catalog, much of Juliana B's material bears the mark of established hit-makers but not at the expense of her own style. She owns her voice, her soul, and her mind, and turns them all into a force that commands her listeners. Sure, she's aiming for your attention, but she has substantial things to say.
Juliana B has star quality, there cannot be any doubt about that after you give "On Your Own", and the rest of her playlist a good and hard listen; there are so many sonically versatile qualities to the songstress, she can easily go between powerful grittiness, and a lulling croon. She seems capable of anything. I can't wait to hear more from Juliana B.
OFFICIAL LINKS: WEBSITE – SPOTIFY – INSTAGRAM
Please follow and like us: