"Love, Lust And Other Wreckage" is thirteen track semi-autobiographical album by John Vento, released via MTS Records. The album also serves as the soundtrack to the musical of the same name, penned by award-winning playwright, Amy Hartman. Produced by David Granati at Maplewood Studios in Ambridge, PA, Vento is joined on the album by David's brothers Hermie and Joey, and nephew, Jules Granati, as well as Cherylann Hawk, Joffo Simmons, Bob Fetherlin, and others. The album was mastered by Brian Foraker in Nashville.
Singer-songwriter John Vento, who is a father of three and a successful Pittsburg businessman, spent two years completing the "Love, Lust And Other Wreckage" album. "It is all about one person's struggle with real intimacy in relationships," explained Vento. "Our hero has great friends, fun, music, but something much deeper is missing. And that something is tough to find and keep. The record is full of regret and heartache but in the end love finds a way."
I've been listening to this album non-stop since last weekend. Vento's introspective lyrics, gorgeous melodies, inventive arrangements, and the meticulous instrumental work are on full display here.In contrast to much of his other work, however, there is a recurring theme of affliction in these tracks. But like the first glow of dawn after a long, dark night, the album also gently reminds listeners there may be something good just a little farther up the trail.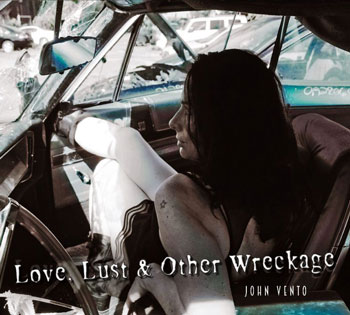 Indeed, John Vento has that ability to entice his listeners into sharing his emotional state, and once lured inside those intimate environs, they're engaged, ensconced and content to deliberate on any perspective he perpetuates.
With shades of Heartland rock working alongside gritty Americana and straight rock n' roll, the songs effortlessly and beautifully glide by on the strength of some serious guitar playing and Vento's lilting singing voice.
It's a tightly focused, intense listen that showcases a talent capable of stepping out into his own spotlight, in addition to offering essential vocal duties to half a handful of other projects. From the moment the album opens with "A Good Life Made", we are treated to a sprawling, regret-riddled epic that trawls through themes of hope, loss, love and its many disguises.
Thanks to the intuitive touch of the musicians he cobbled together, the guitars, drums and pianos, melodies and harmonies all meld together to form the kind of lush organic backdrop we haven't really heard in a while.
As you hit on standout tracks like "Baby Blues", "Just Don't Care", "Only One Stays Alive", "With You" and "Follow Your Heart", its clear there's no space for ego on this record: John Vento swaps the usual rock showmanship for artistry, and in doing so creates something that's as musically convincing as it is emotionally affecting.
Often driven by acoustic flourishes, many songs are full of worn-out, Springsteen-esque sincerity and evocative imagery, that at first meander with melancholic reflection, and then swing for the emotional sucker-punch.
If the first part of the album is about the burden of regret and painful memories, then the final third is about escape, discovery and affirmation of something new. Weighed down by drama, but propped-up by the promise of happiness, "Love, Lust And Other Wreckage" is as complete and honest a self-portrait as you're likely to find by any artist.
OFFICIAL LINKS: WEBSITE – FACEBOOK – TWITTER – YOUTUBE
Please follow and like us: