Holt & Apollo are a couple small town rappers belonging to the Hip Hop group "Special Defects" who have taken over their hometown of Windsor, Missouri with music. Holt is releasing his debut album "Scars" in August, and Apollo just released his debut mixtape "Here and Now". They have opened up for Haystak, Twisted Insane, and Ces Cru, which had a record breaking sold out crowd at The Bay in Warrensburg MO.
Holt & Apollo's idiosyncratic stream-of-conscious raps on the "The Visions Mixtape" zigzag like a series of flashbacks, memories, snapshots and recollections. It's an impressive approach – the narrative ebbs and flows, deftly jump-cutting back and forth between fearsome rap brags and front-line dispatches from life's dark underbelly.
It's that iron-fist-in-a-velvet-glove approach that, in the end, reaps rich rewards for Holt & Apollo's work here. In an increasingly-predictable rap universe top-heavy with trolling mumble-rappers and formulaic pop-trap beats, "The Visions Mixtape" quiet-storm menace makes for a surreptitiously potent punch of heavyweight Hip Hop.
The Midwest swing Holt & Apollo will be disrupting the triangle of mainstream rap hegemony that has become the East, West, and Dirty South. Regional stylizations have long been widely recognized and co-opted by the larger hip-hop mainstream. The introduction of Holt's unique rapid-fire flow in "Steady Zonin'", adds to the resurgence of hip-hop from the Midwest, and more importantly, from Missouri.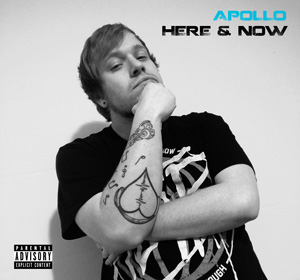 All through "The Visions Mixtape", Holt & Apollo are technically sound, demonstrating the diversities of hip-hop music regionally. But thematically, they don't merely conform to the banalities of mainstream hip hop.
Holt & Apollo shows why there has been a revival in the Midwest hip-hop scene. Although Holt & Apollo are not the first to use the double-time scheme, their style is clear and articulate, and they doesn't rely on this novelty throughout the mixtape. What's equally impressive is the duo's versatility; they are able to change their rhyme patterns and tempos even within the boundaries of the same song.
That's best exhibited on the soulful and bounce-heavy "Expectations". Their wit and flows blend seamlessly over the sped up rhyming in an otherwise seeming clash of sonic style. Holt & Apollo's more thugged up raps come hard and fast as well, and will appeal to the core street rapper set.
The growing interests in Holt & Apollo's flows could challenge the ways that we identify underground rap music, as well as the perceptions of the technical complexity of the art and culture. "We Gone Make It" is another steady lyrical effort, as is "Wild". Often Holt alters his flow from pondered pauses before launching into breathless, rapid-fire metaphors. It's like Usain Bolt dashing through a war zone.
No doubt the Holt & Apollo pairing is a perfect match. No one can question their lyrical prowess, proving that they're more than just a gimmick. And they're able to slot in a fair amount of melody too, which is evidenced on "Self Image".
Every rap region has its signature style. The west coast has its gangstas, the east coast their lyricists, the south its banging productions, and the Midwest has carved its niche for possessing machine-gun emcees. Rapid firing rappers that often find themselves home in the heartland of America. Since the 90's Midwest rappers like Tech N9ne, Bone-Thugs-N-Harmony, and Rebel XD have made their names for spitting lightning fast rhymes.
Twista is another rapper recognized widely for spitting multi-syllables per second. Hence the advent of Holt & Apollo does not surprise one bit. Overall, "The Visions Mixtape" is a spectacular recording if you get high on gangsta-styled rapping and superb technical flows.
OFFICIAL LINKS: FACEBOOK – YOUTUBE – SOUNDCLOUD – FACEBOOK APOLLO
Please follow and like us: