Herman Martinez is a self-taught multi-instrumentalist, singer and songwriter from New Jersey, specializing in surreal, dreamlike rock music. Herman has been writing music for 16 years, creating over a hundred songs which he is starting to share with the release of his album, entitled "Solopsi Radio", completed with the help of Producer Ahmed Mahmoud, who also mixed and mastered the album. They meticulously worked on the album for over 18 months.
I've been waiting since the late '70s, listening to hundreds of new groups and recordings during that time, trying to capture that feeling of sitting down with something that took me on a journey to a higher place where musical genres and boundaries melted away for the greater glory. Rare albums like those were addictive for me, requiring many listens to unravel deeper mysteries and joys.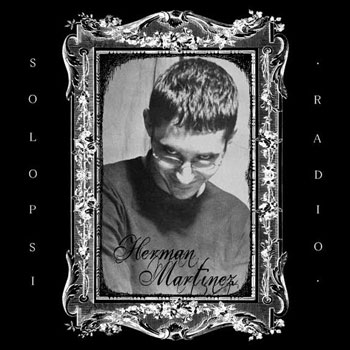 "Solopsi Radio" is one of very few since my early years to succeed fully in the same way and on virtually every level for me. I realize how much I'd missed sitting down for a spell with such engaging music that shines from that captivating higher place. Every element here seems just right, flowing seamlessly, and the world suddenly seems more intriguing. It's hard to describe such music without sounding a bit unhinged with excitement, but that's the feeling I get from this effort.
Trying to explain exactly why "Solopsi Radio" stuns me would be an overwhelming task. Suffice to say that the masterful balance of composition, musicianship, experimentation and production strikes me most of all, with a special nod to the brilliant guitars, drums and vocals throughout. The insightful, at times cryptic and oddly uplifting lyrics, the extended instrumental excursions, the lush harmonies, and the constant attention to the swing of emotional highs and lows are all coming from that great place above. Every note and beat matters here. Think a seemingly unlikely blend of King Crimson, early Yes, Pink Floyd and Pearl Jam in varying doses.
This really is Herman Martinez's unabashed, high octane, creative vision of music in all of its fascinating colors and textures, which he refers to as "a sci-fi, time travel, cryptography love story." This is a modern concept album where the music and narrative are powerful, heartfelt, and immersive. Highly creative compositions that are atmospheric, elaborate and multidimensional as well as complex rock tunes changing from melodic to metal to symphonic.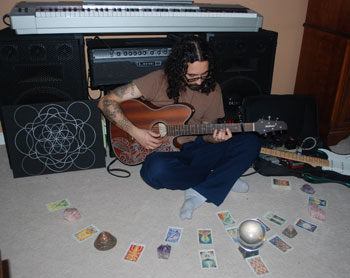 Yes it is progressive and even has a jazzy feel to some of the instrumental passages but what is striking is that the music of each song touches all of the right chords, notes, and in places even has the audacity to incorporate dissonance and slightly off-key phrases. This is the experimental music that artists aspire to create and the rest of us celebrate. Executed and performed with precision by Herman Martinez on vocals and several instruments and his brilliant virtuoso Producer,  Ahmed Mahmoud, this is par excellence.
Although there is a cohesive and strong narrative to the album, there are enough musical twists throughout the 11 tracks to keep you on the journey right to the very end. It's easy nowadays to let yourself be distracted by tweets, texts, and other demands on your attention, but "Solopsi Radio" grabs your full attention from the beginning to the very final note, and that's the sign of a great album.
I would need pages of space to breakdown each track and discuss the more technical aspects of the music, such as the ravishing yet unexpected chord progressions and tempo changes, the contrasting musical styles, the eerie bends, reverbs, and other clever guitar effects. Suffice to say that if you care about creative music, pay particular attention to this album. Herman Martinez has really challenged himself and the listener to try new sounds and it has worked with aplomb. The sonic landscapes fill my head and heart with pure enjoyment that very few bands have ever been able to do in the last year.
It's impossible to deny the considerable amount of musical chemistry Herman Martinez has put together in "Solopsi Radio", together with mature, fully-realized songwriting, in presenting a dynamic and rewarding sonic experience from beginning to end. If you like progressive rock with an experimental flavor, grab this album and savor all of its tracks!
OFFICIAL LINKS: REVERBNATION – BANDCAMP – FACEBOOK – YOUTUBE
Please follow and like us: