Based in France near Paris, Han Sino is a musical creation and spoken word artist who blends flavors like Nu Jazz, Rare Groove, and Trip Hop, as well as some other musical herbs and spices along the way. His 16 track album "Blending Sounds" does exactly as the title says, except he also blends in atmosphere, moods, timbres and tones from various extractions. This disc contains some of the most expertly-crafted, stunningly beautiful and groovy ambient electronica I have ever heard. Funky Chill-out melodies and soundscapes combine with synth work and plenty of improvisation to create a lush and mesmerizing sonic landscape.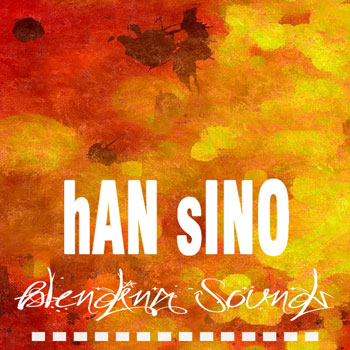 In the hands of a lesser artist, the formal sonic themes of this album would likely become tiresome, or maybe too experimental but every one of the album's sixteen tracks here is a testament to Han Sino's breathtaking compositional skills.
The producer builds much of the record around a set of grooves, melodies and rhythms which start off simply, and Sino adds layer upon layer of complexity as they progress. The album as a whole is itself a mesmerizing mix of structures and forms of arrangement that shift from track to track.
But, like all great songwriters, Han Sino knows how to surprise the listener — and the surprises on "Blending Sounds" are always behind the next bar. It may be a voice, a sample, a sound, or even an unexpected plucked bass line which can be savored on "La Force".
All the songs on "Blending Sounds" are like expertly crafted puzzle pieces that interlock and fold into each other to form one complex, complete unit. The album as a whole fits in this analogy as well. Just as each song is a collection of parts that fold into a whole, so too is the album made of individual songs that add up to make something greater than the sum of its parts.
The way the energy flows from track to track is hypnotic, and the album moves from uplifting, soaring choruses to mysterious and somber bridges with confidence and ease. There's a refreshing amount of dynamic variation throughout, and the melodic and harmonic movements of this album come across like narrative.
All in all, it's hard to say what the best thing about "Blending Sounds" is. Maybe it's the funky bass lines of "Tandoori Flava" and steady shuffle of "Cock Fight", or maybe it's the cascading keys on "Istanbul."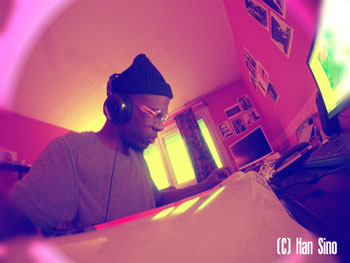 It might be the deliciously crisp percussive tones of "Instant Pleasure" and the infiltration overdriven sounds on "Fed Up With Flowerz," but it could also be the hazy intertwining counterpoint of the album's closer, "Child's Play."
The sound design is beautiful, the arrangements are subtle and nuanced, and the overall effect is triumphant, even bordering on transcendent. Suffice it to say that "Blending Sounds" sounds like the soundtrack to a hallucinating dream that we wish we could relive each and every night.
These songs showcase the entanglement Han Sino creates between melodic, rhythmic and narrative structures, pushing the boundaries of each artistic form, blurring the lines and enhancing each of these through sonic light and shade. A thoroughly enjoyable experience!
OFFICIAL LINKS: BANDCAMP – YOUTUBE – FACEBOOK FAN – FACEBOOK PROFILE – SOUNDCLOUD – GOOGLE+ – TUMBLR – TWITTER
Please follow and like us: