In the dynamic realm of rap music, where the spotlight often shines on major-label artists, there exists a hidden gem from the vibrant Washington DC. FYB Moon, an independent artist whose star is on a steady rise, has recently captivated audiences with his mesmerizing performance on the up-and-coming TV show, DMV Baddies. This charismatic rapper has also made his mark on The Trap House Show, a prestigious platform that serves as a testament to genuine talent. But FYB Moon's aspirations stretch far beyond television appearances and platform showcases. As a vital force in the Next2 RISE tour, he has already left his indelible mark once before. With each stage he graces, FYB Moon's relentless passion shines through, leaving audiences in awe of his artistic prowess.
In a music industry brimming with collaborations, FYB Moon has been bestowed with a golden opportunity. The talented rapper joined forces with none other than Benzino at the illustrious Dream House Studios. Together, they embarked on a creative journey, seeking to unearth new dimensions of musical expression. Fueled by this experience, FYB Moon eagerly awaits further opportunities to demonstrate his extraordinary talent.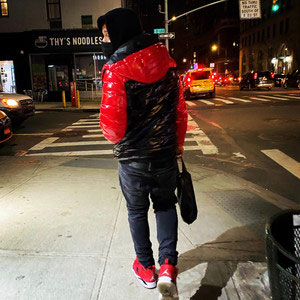 Amidst the symphony of his accomplishments, FYB Moon presents to the world his single, "Foreign." This pulsating track offers fans a rapid glimpse into the very heart of FYB Moon's craft. With his singsong rap flow gracefully interlacing the skittering trap production, he weaves a narrative that is both explicit and hypnotic. A vivid street tale unfolds before us, where the pursuit of money, the allure of women, and the relentless hustle harmoniously coexist.
FYB Moon's fervent desire to flourish in every track he touches is palpable. "Foreign" exudes an unrivaled energy, with his delivery imbuing the straightforward lyrics with profound meaning. It's impossible to overlook FYB Moon's relentless drive as he propels himself to the forefront of the rap scene.
Unlike some of his contemporaries, he refrains from indulging in over-the-top antics. But make no mistake – FYB Moon defies categorization. He is a multifaceted artist, adept at both penning intricate verses and crafting infectious hooks. Throughout his extensive catalog, he fearlessly ventures into a multitude of sonic landscapes, revealing the breadth of his musical prowess.
Quietly but surely, FYB Moon has been cultivating a devoted fan-base that passionately advocates for him. Many are drawn to his lyrical finesse and his uncanny ability to craft earworm songs that effortlessly captivate the average listener. In his single, "Foreign," FYB Moon encapsulates all the qualities that make him an artist to adore. Here, he showcases his boundless potential and unrivaled skill set, effortlessly blending hard-hitting lyrics, an intoxicating musical vibe, and shimmering production.
FYB Moon has emerged as a luminary within the rap landscape, illuminating the streets with his solid craftsmanship. As he continues to forge his own path, there's no doubt that FYB Moon's star will continue to rise, casting an ever-brighter glow upon the world of hip-hop. With each verse he pens and every beat he conquers, FYB Moon solidifies his position as an artist destined to move up. Keep your eyes peeled and your ears tuned, for FYB Moon is a force to be reckoned with, poised to leave an indelible mark on the underground game.
OFFICIAL LINKS:
https://music.apple.com/lk/album/foreign/1606488455?i=1606488696
https://www.instagram.com/f.d.rmoon/
Please follow and like us: