With effortless vocals, smooth chord transitions and a majorly vibrant arrangement, Ferit – a 22-year-old pop singer-songwriter from Berlin, Germany – managed to pull a fresh and funky sound out of the bag and please his fans with the single, "Grey & Old". It's easy to think of Ferit as an appealing male icon and this track really heightens this. The mellifluous atmosphere is made the center of attention alongside the luscious harmonies, passionate lyrics, and guitar progressions. The catchy chorus and Ferit's desirable vocal tones are the main standout points. However, he leaves is a lot of room for this song to build up and become a great anthem.
All throughout "Grey & Old", Ferit's matured musical aesthetic becomes abundantly clear. He keeps the sounds soulful and dynamic while adding a sense of experimentation and wonder into the instrumentation. The single is a well-thought-out recording and carries some magical moments. We are taken into Ferit's honest thoughts about the passion, nostalgia and the durability of relationships, as well as the will just to let it out, have fun, and dance.
Everything falls nicely into the proverbial pocket on "Grey & Old". Ferit's star power is undeniable, and his potential as a great pop songwriter is probably assured for years to come, based on the sound of this single. Having set the bar high for himself, might ultimately be what makes his latest release, "Grey & Old", such a fantastic listen. A quick run through the songs on his platform, and there's no denying Ferit brings an endearing earnestness to everything he does.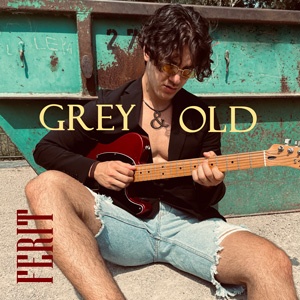 Ferit certainly has the charisma and drive, to access the A-list of pop stars, while coming up with songs like "Grey & Old" which will define his career. The track offers subtle evolution while playing to Ferit's strengths. Sonically, "Grey & Old" is the most compelling the singer-songwriter has ever been. Moreover, the production is captivating and refined as each element bleeds seamlessly into one another.
That prompts the listener to instantly assume Ferit has the talent, and vocal ability, to be innately interesting as a performer, while in fact, his quality as a songwriter propels him even further ahead. Ultimately, there is lots to like about "Grey & Old", as Ferit combines all aspects of his musical ability to perform this song with crafty lyrics that get stuck in your head.
Ferit feels right at home over the rhythmic groove, his infectious melody bouncing off the bass and drum motifs. "Dance until we're grey and old. Just like there's no tomorrow. Until we're grey and old. Please don't tell me just play it. Until we're grey and old. Just like there's no tomorrow. Until we're grey and old. Please don't tell me no," sings Ferit, as he unfolds the high-energy chorus.
The delicious guitar parts are pleasing to the ear and definitely bring attention to the production, which is superbly executed, while the rhythm section sounds crisp, modern and refined throughout the record. However, at the end of the day the major praise falls squarely on the shoulders of Ferit, who has dropped a mesmerizing single with "Grey & Old".
OFFICIAL LINKS:
https://www.instagram.com/feritd_/
https://www.youtube.com/channel/UCTkJWuREwFM_WS2DTZbcPAw
https://open.spotify.com/artist/2X65cp38oOj16dLdEiOupn?si=W3JLPvpuTTmGcdhHIgEiVg
https://ampl.ink/1O9PJ
Please follow and like us: