Evan Button is a 27 year old artist and doctor from Arkansas. He enjoys pop/rap, and has been making music for about 3 years. Button's latest single is entitled "Right Now". I've got to emphasize the fact that this is a rap record, recalling the influence of early 2000's pop, today's new wave hip-hop movement, and melding it with Button's own idiosyncratic sense of musicality. The record is a bona fide representation of the artist himself. Right off the cuff, it's hard to fault the track, as it is an instant earworm that I found myself humming a day later.
Evan Button is one of those artists that does not get tied up in musical complexities, overwhelming narratives, and every other hyped up, overworked extreme. His music cuts directly to the core – a straight guitar strummed groove, a thumping kick drum, shuffling hi-hats and a mellifluous sing-song flow. The result is a chilled, feel-good vibe, equipped to charm your ears.
Button also manages to get his message across without cursing, creating misogynous rhymes or dissing anybody, something most rappers fail to do these days. In substance, it is inoffensive, delivering positive vibes. I could go on about the song and how distinctly different Button is from the pack, but listening to "Right Now" is a must.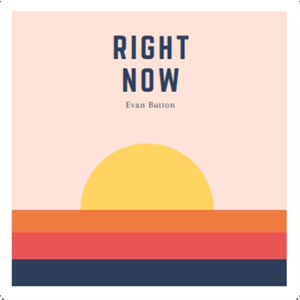 No matter what you think of Evan Button, or his music, the one thing we all can agree on, is that he is adept at making clean, relatable and easily listening rap music. The man just knows how to put an uncomplicated catchy track together. Whether it's his distinctive melodic flow, or the unusual use of guitars in rap music, most of the time Button hits the mark head on.
You could call "Right Now", independent alternative rap for the masses. But above all, this is really a concrete testament to the diversity in, and the morphability of, the rap art form today. Needless to say the pop-influenced Evan Button is good, thoughtful, and thorough, in his interpretation of this musical metamorphosis.
Instrumentally good, the overall musical aspect of "Right Now" is shapeshifting in its austerity, and that makes for a fresh, comfortable, and flawless flow. Evan Button also delivers some great lyrics, which are essentially a combination of smarts, feelings, and pop sensibilities. Overall, Evan Button feels more organic and less manufactured than many of his contemporaries. He is the kind of artist you tell all your friends about.
Evan Button approaches music the same way most of today's true listeners expect it to be – with no hype and pretense – and its working with that mindset that makes this record so good. Nothing sounds rushed or out of place. Evan Button is someone fresh, original, and talented. I was impressed by the effortless simplicity of his sound, and can only hope he expounds on the potential he displays on "Right Now".
Hook up with Evan Button's music on SPOTIFY
Please follow and like us: