Yungcameltoe aka Der Witz is from Oakland, California and now lives in Los Angeles. The name 'yungcameltoe' comes from his elementary school Pokémon days. All of his music is freestyle or loosely written. In 2022 he spent 40 days in travelling around Europe doing rap shows. He visited Italy, Germany, Czech Republic, France, Greece, and Turkey. His catch phrase is "We live in the best of all possible worlds, this is just another day in paradise." His latest album "Sorta Sweatshirt", makes the listener take a pause and process the actual meaning of rap in the modern day.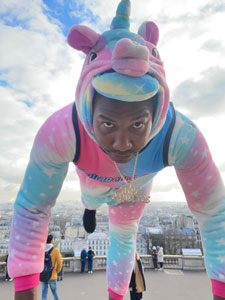 Few in the current scenario can match Der Witz's style of lyricism. That may sound like a blasphemous thing to say in the global hip-hop ecosystem, but as Der Witz goes on to dazzle and slide through "Sorta Sweatshirt", this proclamation seems less and less heretical by the minute.
The artist adds undeniable depth to his already impressive arsenal. With a record full of conscious lyricism, smooth production, and laidback swagger, Der Witz is staking a legitimate claim for himself in hip-hop's lyrical class.
Moreover, the gritty lo-fi hip-hop production makes this album a friend to anyone who produces or listens to the modern phenomenon of lo-fi ambience in a number of styles. The production of the album contains samples that make the beats feel warm, cozy, and intriguing.
The production is so strong that an instrumental version of this album could have a successful solo release of its own as well. "Sorta Sweatshirt" finds Der Witz rapping of indelible experiences, mindset revolutions, and extravagant philosophies.
Though the "Sorta Sweatshirt" album is surprisingly polished, Der Witz keeps his rhymes unpredictable enough to create the feeling that you're in the basement of some poetry club.
On the opening tracks "Lucifers Nightmare", "Picasso" and "Void" Der Witz leans into the role of the profound poet, and though his lyrical assault is relentless, it never feels forced. Instead, he casually strings together intelligent themes bar by bar, calmly constructing his own lyrical odyssey. On tracks like "Sleepy Steez", "Nightmares" and "I'm Lonely", Der Witz's commitment to lyricism comes out in intricate bursts of wordplay.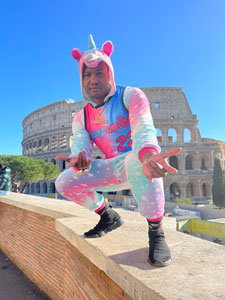 In the background, rusty drums, wobbly basslines and woozy keys create a mesmerizing atmosphere for Yungcameltoe aka Der Witz to rap on. Moving forward through "Real HipHop", "Black Guys on Acid" and "Jaded Creative", Der Witz is comfortable and focused, openly brandishing his lyrical weaponry.
Dense, intricate, and irresistibly cool, it's a definite step up from what's happening on the current scene.  Der Witz impresses using an unpretentious style of rap, cryptic lyrics and otherworldly production.
To make a long story short, "Sorta Sweatshirt" is an alluring album, and by the time it closes with "I Don't Got Nothing 2 Say", "Skin Tone Chicken Bone" and "Sight", you will be completely hooked.
From the beginning of the album, all the way up until the end, Der Witz delivers some potent bars, and a rapping style that is his. And with the appropriate amount of listens, you will truly appreciate his originality. The authentic manner in which Der Witz approaches every individual verse in this album, clearly puts him in his own lane.
OFFICIAL LINKS:
YouTube: https://youtu.be/JB36CvbyBp4
Website: https://yungcameltoe.com/
IG: https://www.instagram.com/yungcameltoe/
Twitter: https://twitter.com/yungcameltoe222
TikTok: https://www.tiktok.com/@yungcameltoe
https://www.twitch.tv/yungcameltoe
Spotify: https://open.spotify.com/artist/7A7f89PrvDupKgLupuHRJc?si=fx1sqQTcSxyN_AXsukVb-A
Please follow and like us: