Although Deane Nesbitt Jr. has composed music for years, he does not read music. His unique background consists of practicing law for 16 years, co-founding an investment management company and writing an illustrated history of a 1912 investment bank. Deane's music has been aired on more than 300 radio stations across America and Canada. His recent CD, "Music in Search of a Movie", won the Philby Award in the United States for being one of the top 100 music CDs of 2015 and the Best Dramatic Music of the year. The album ranked on five CMJ charts for New World Music, reaching one of the top three positions on each.
Deane Nesbitt Jr.'s latest album "Soundtracks in the Sand", which was inspired by films that contain Deane's music, includes African, Caribbean, Mexican, Celtic and North American influences. Instrumental cinematic music can be a rather sticky topic.
One man's music is another man's molasses, as they say, especially when the music in question, is not accompanied by the imagery it was designed to enhance. Now, Deane's music is quite something. The meticulous sculpting of his soundscapes, allows them to flourish without the filmed imagery, because they create their own. However clichéd that might sound, it's the absolute truth.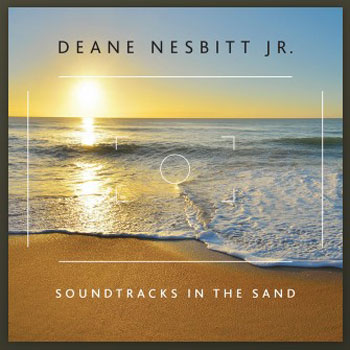 The music on "Soundtracks in the Sand" is luxuriously layered, textured and pristine, thanks in no small part to modern production values and the ability to present crystal clear-cut compositions.
The listener who wants to fill a gap in their music collection with at least one long-running cinematic-styled instrumental  release will probably have to look no further: this is Deane Nesbitt Jr. at his quintessentially lushest, every track indexed yet connected, ushering forth reams of cascading piano notes and orchestral arrangements that unfurl and glide at differing paces.
There is no set scheme, no unilateral template, and no manifesto, except the will to emote and delight. It is a tapestry of moods and tones which are totally engaging. Deane's well-defined approach and knack for creating picturesque imagery is in full force- whether it's the joyous, energetic rhythm of the opening track, "Upbeat", or the slower piano orchestration of "The Heroine", and the foreboding "Legacy of War", with its booming percussion and anthemic strings.
"Tracking The Soldier" has a calm, reflective vibe thanks to the lush soundscape and gently flourishing dynamics. The production is spot on capturing the spiritual, sublime Celtic sound that this track has to offer. Deane's high-definition piano beautifully introduces the African flavors of "Change for Chimps", featuring a vibrant vocal choir and interesting percussive deviations.
"Angels of the Ice" delivers soothing, sonic waveforms that instill a vast, deepness of open spaces and peace. Rich strumming guitars bring in the Mexican-flavored brass of "Chihuahua", in another song which rides on Deane's predilection for melody and harmony.
"Niagara" returns to the epic cinematic sound, before the album closes down with another taste of Deane Nesbitt Jr.'s delectable piano playing on "The Best That Can Be (Reflective)". This is music that will still retain its artistic intent and expression through time. "Soundtracks in the Sand" doesn't simply let you listen, it holds you hostage from the beginning to the end. Headphones are a very good idea too.
OFFICIAL LINKS: WEBSITE – SPOTIFY
Please follow and like us: