Danilo Gossain is a twice nominated LatinGrammy producer, arranger, and percussionist. Passionate about music from a young age Danilo began his studies in Bogota, Colombia before traveling to Boston to study at the Berklee College of Music, where he graduated with honors. He has been working as a producer and arranger ever since, and I also participates as a recording
session conga player. Internet technology, has also afforded him the opportunity to do remote recordings for different productions. On his latest album "SALSA CHILL", Danilo fuses his previous experience with Chillout/Lounge music (Chillociraptor), and his greatest passion for Salsa and tropical music.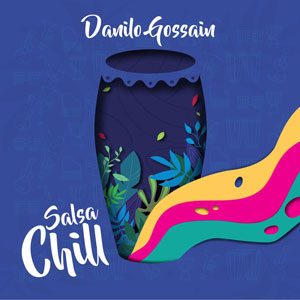 Danilo Gossain's blend of relaxing Lounge sounds and smooth Chillout grooves is so balanced that at first, it almost cowers in the shadow of the boisterous and colorful Salsa rhythms that purvey the album. A few trips across these landscapes, however, suggest that the artistry of "SALSA CHILL" is a lot more nuanced than you at first expect.
The rhythm section's often fierce grooves carry most of these songs, but it's Danilo's tasteful instrumentation that creates the rich sense of tone and kicks the rest of the band into motion. His phrasing arrangements contributes color and texture in a manner that keeps the ear captivated.
The kaleidoscopic interludes of the horns, often achieve fiery and florid melodic statements, while the thoughtfulness of Danilo's playing is accentuated further by his distinguishing conga work which he delivers in pointed doses. This is the case throughout this scintillating recording.
Arrangement-wise, it's the opening song, the cover of The Beatles song "Come Together" that best showcases Danilo Gossain and his band's ability to inhabit multiple worlds. It's a delight to listen to this Latin version featuring the dazzling and ravishing voice of Natalie Jean, as she weaves her vocal cords in between the vivacious instrumentation.
Of course it goes without saying that the horns and percussion is again impeccably arranged and strikingly executed. Can pop minimalism paint itself with folkloric dyes and traditional rhythms, and still sound convincing? Listening to "Come Together", the answer looks like a straightforward "claro que si". Thanks to his musical roots and tight soundscapes, Danilo Gossain is able to infuse new life into the Latin scene.
"Lily" wisely mixes melodic structures and organic ornamentations. Danilo uses indigenous particulars to enrich and give incisive meanings to the rhythmic background of this composition.  In this way, the earthy flute, enticing percussion and elastic percussion create an imaginative substrate on the airy surface, which unexpectedly swings into a bold brass section embellished with fiery electric guitar interludes.
"Amo Lo Que Soy" is enchanting and captures you the minute you hear it. If you enjoy a full blooded Latino croon over a stately salsa rhythm. Stop right here, and hit replay each time you feel the need to.
Both "Over The Clouds" and "Tropical Flavors" show that Danilo is able to deliver smart, intriguing and developing musical incantations. Capable of pushing genre boundaries whilst never letting the groove suffer, these tracks put Danilo Gossain firmly in the tropical futurist bracket.
These songs represent an expression of freedom and stylistic mastery, while still tightly holding onto traditional roots. All across "SALSA CHILL", Danilo uses an assortment of flavors, showing off broadened musical sensibilities that prove to be a revelation.
OFFICIAL LINKS: WEBSITE – SPOTIFY – YOUTUBE
Please follow and like us: