At just 19 years of age, Singer-songwriter Cortni Bird  wrote and co-produced her first album and toured the east coast of America. Prior to releasing her latest track "Karma's Got Me Now" Cortni appeared at the CMA Music Festival and then shortly after caught up with her leading producer, Mark Moseley, to work on more music for her upcoming, and as yet untitled, album. Cortni is also co-owner of her own annual Country music concert event entitled Country on the Sound held in Navarre, Florida. The concert takes place on the beautiful Navarre Beach and has featured such headliners as Trace Adkins and Big & Rich.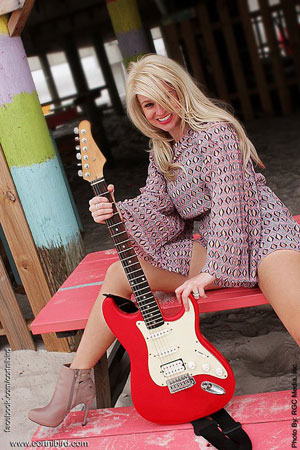 Running through her catalog of songs it seems that Cortni Bird is incapable of writing a boring song or performing without utter conviction. She's the complete country package: a beautiful singer and songwriter, with a sharp intelligence and a powerful delivery.  Her gifts become crystal clear with "Karma's Got Me Now".
Cortni seems just as at home kicking out the jams and spitting out edgy lyrics on this as she is on slow burners like "Soulshine". She can move within the Nashville "cookie cutter" hit machine sound, or she can lay on more of a traditional structure – all the while, maintaining her phrasing and presentation which is refreshing.
There's an easy grace to "Karma's Got Me Now" that is positively captivating. The melody just sort of flows, with Cortni Bird's vocal dancing delicately over it. Gifted with a strong percussive arrangement that chugs along nicely and a gritty sly lead vocal that is totally tongue in cheek, you just have to fall in love with a song that has a title such as this one! What sets Cortni apart from her peers is her gifted songwriting abilities, her vocal prowess, and her feisty attitude.
If "Karma's Got Me Now" is any indication, we will be hearing Cortni Bird's name for a long time to come. And if you listen to a variety of music styles like I do and want to get some great country music with a little pop twinkle, then this one is for you.
Often, especially for female country artists, the music is unimaginative, and purposely pushed to the background to only highlight the vocalist's talent. That is not the case here as the song is crafted with genuine care all-round.
OFFICIAL LINKS: WEBSITE – FACEBOOK – TWITTER – INSTAGRAM
Please follow and like us: