His family originally from Nigeria, Chima Nice aka GT The Great, is an artist out of Atlanta who has been performing since he was 15. He has released a series of singles, and EP and an album, entitled "Mr.Nice". Currently the artist is making waves with his single "Jumpin". Leading with smooth keys, deep bass and commanding percussion, Chima Nice's mellifluous flow sets the tone for the rest of the track. The artist's eclectic mix of R&B, Afrobeats, pop and hip hop sounds, as well as his ambition has always been on a collision course with global recognition. With this track, it feels like he is steadily moving towards that destination.
"Take it to de village club, to de club, to de gym, no matta where you de go…jump," sings Chima Nice. The production is incredibly rhythmic and refined throughout, and the overall impression "Jumpin" gives, is one of absolute professionalism. It is an enormously accomplished record from a performer who seems to finally be ready to complete his transition into current global royalty.
Given the troublesome situation on the ground, all over the world, to deliver such a bright and potent track feels timely. We hear the elite crooner reach for notes with a range of energy, while sounding at ease in his comfort zone.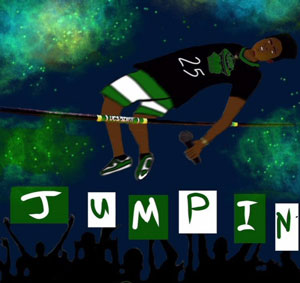 The tone that Chima Nice has adopted for the project taps directly into his strengths, as he mesmerizes with his easygoing vocal twists. Underneath, the music on this track feels like it pumps Chima Nice's underlying fuel and desire.
We hear Chima Nice beam brightness on this track, as he manages to create a seamless project, matching the melody, the rhythm and the lyrics. Each verse flows into the next, a testament to intentional songwriting gone so right.
Carefree in its confidence and yet so rich in melody that a positive feel-good feeling fills the room immediately. Bar after bar, the song builds into something that feels breezy and fresh.
The confidence seeps through Chima Nice's vocals with the unique tone you'll come to love, as he goes on to flex his cadence. He sets the bar very high where quality is concerned. "Jumpin" is the brainwork of a man who makes music to feed his fans and satisfy his love for the craft.
This is an artist operating by his own rules and finding unique ways to excel in it.  "Jumpin" represents growth, ease and the perfection of expressive songwriting. As his lyrical dexterity improves, consequentially, his ability to relay his thoughts and desires is enhanced.
That's what we hear on this track. The anecdotes of a man who can articulate his feelings. This formidable composition illustrates, through its arresting sonics, the symbiosis between the beat, the vibe, and the lyrics, elevating the song even further.
"Jumpin" is an excellent body of work with a proclamation that Chima Nice's is getting ready to move into a league of his own. The song fits into that perfect intersection between club-ready and groove-filled chilling. It sounds like a keeper.
OFFICIAL LINKS: MUSIC – YOUTUBE – INSTAGRAM
Please follow and like us: