Candian Rock band Cherry Suede has taken the UK by storm. Their first show at The Bedford, the legendary London music venue, sold out in less than 24 hours. During the course of playing over 3,000 live shows the band has developed a compelling signature sound. Cherry Suede's latest release is "Rise", a rallying call to action to spur society to reach its highest potential. Never underestimate the power of classic rock with a message. Cherry Suede are riding their latest mount of visionary melodic rock into the summer.
This band possesses a lot of things. One of those things is a steaming mad groove. Then add in the full frontal bark from its lead singer and an appreciable set of playing chops from the rest of the band, and "Rise" is sure to prompt fan singalongs at the group's live shows. A hard hitting track right off the bat and exactly what you'd expect, it is unrelenting, gritty and impacting.
Cherry Suede know how to write anthemic singles, and "Rise" has all the potential to be a smash. It has the melodic singalong chorus, an inflammable mid-tempo groove and the requisite screaming solo stick in the arrangement. The track is razor sharp with focused lyrics and a less than a 4 minute running time.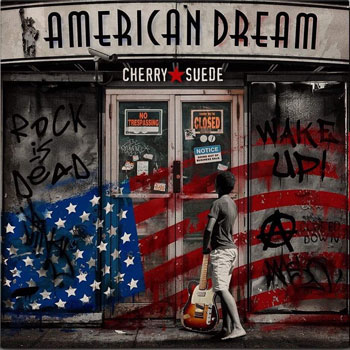 Listening to "Rise" works well to let off some steam, get in a solid workout, or crank up nice and loud as you're cruising down the highway. This is an obvious snipe at the current state of the world. Right from the start, it's a declaration of the band meaning business.
"Rise" is the kind of quality you'd expect from a band at this point in their career as they climb up touring posters and play sold out shows. This is the kind of track which justifies them staying at those lofty heights, if not pushing them even further. It's this sort of quality which justifies their successful UK tour.
Delightfully heavy whilst paying attention to their melodic elements, this is peak Cherry Suede. This song is built for audiences of thousands to chant to and which will stay in band's repertoire for years to come. Cherry Suede bring the heat, and the feel with "Rise".
Cherry Suede have turned their adrenaline-fueled, relentless-swaggering riffs and rhythm, into an art form, and top them off with a huge, anthem-shaped chorus begging to be sung loud and proud. They're also more than capable of delivering heartfelt and emotional lyrics.
"Rise" epitomizes everything that Cherry Suede embodies; the superb vocal abilities, the masterful instrumental collaboration, and the overall atmosphere that their music creates. This track might have you starting a mosh pit in your living room, so make sure the kids are out of harm's way.
With the words 'Rock Is Dead' being trolled out left and right, Cherry Suede are rocking their way through the dirge to bring the genre, back to the forefront.
Find and follow Cherry Suede on Facebook and Instagram or visit their Website.
Please follow and like us: