A good heap of today's most popular artists offer little more than a misogynistic catchphrase over a bass-heavy beat. It is within this scene that Bro Kendricks-El emerges almost as a Messianic figure, charged with the task of setting everything right with the industry. Bro Kendricks-El is a Moorish American recording artist, who coined his style as Mo-hop, which stands for Moorish science converted into hip-hop form. Currently working on his fourth album, the artist recently dropped his single and visual "Don't Like Me" ft. Awesome Dre. Dedicated to the two-year old Brison Christian, who lost his life in a freeway shooting, the track focuses on how the things you do, reflects on how you feel about yourself.
There aren't many conscious artists like Bro Kendricks-El at the top of the game right now, and on "Don't Like Me" ft. Awesome Dre he demonstrates that he doesn't miss a step between the production, lyrics and delivery.
Even better, is his ability to craft a track that is easy on the ear, yet heavily loaded with hard-hitting messages. Moreover he is ably assisted, by the thoughtful delivery of Awesome Dre. For all the strengths of today's most eclectic artists, I wouldn't mind seeing a few more that are able to craft a track the way Bro Kendricks-El does.
"Don't Like Me" ft. Awesome Dre, taken from the upcoming album "King",  is the type of song that glances back, while pushing the genre forward musically. The beat is rhythmical and soulful, yet extremely melodic, laid-back and jazzy. This is hip hop that needs to be digested with careful thought.
This is another reason the song stands out in the current hip hop landscape. Rap is a genre that thrives on immediacy, and most commercially successful tracks simply jump off the shelves at listeners propelled by unrelenting bombast.
However, once in a while it is nice to hear somebody like Bro Kendricks-El deliver a subtle work of art that takes a little more time to grow on you. Wide-eyed yet assured, Bro Kendricks-El creates music that reflects our times.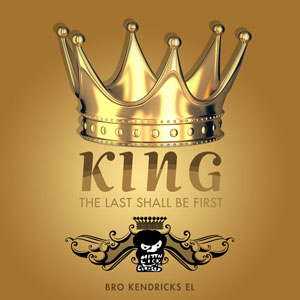 Topics like love, hate, the daily struggle, and the subsequent pain or jubilation encapsulated within those interwoven existentialistic grooves are all part of the artist's aesthetic. The effortless fluidity of "Don't Like Me" ft. Awesome Dre is alchemic, as it moves between verse and chorus, rapping and singing, all masterfully executed by Bro Kendricks-El.
"Don't Like Me" ft. Awesome Dre is a protest-minded project with a titanic belief in unity, love, faith and awareness. It seems that Bro Kendricks-El wanted a record that showed his true musical abilities, and transported his message, not just catchy hooks and a jumpy beat. And if it tries to take you back to the good times when hip hop was more focused on making meaningful music, then it sure does succeed too.
All in all, this is an excellent effort by a deep thinking artist. Bro Kendricks-El's gift for bringing lyrics that matter does not falter on this release. With this release, the artist shows that quality music can be released with effort and honesty. With "Don't Like Me" ft. Awesome Dre, Bro Kendricks-El gives listeners something worthwhile to listen to, while they ponder these troubled times we live in.
OFFICIAL LINKS: FACEBOOK
Please follow and like us: