The French have always led the way in chill and ambient music since I first heard French avant-garde in the mid-70s. The sounds and sensibilities on "Le chant des sirens" by Veteran French singer-songwriter Ben Popp has nothing to do with those genres, having at its core a pop rock them yet the songs has such a classy coolness you can't help but think that those avant-garde chill have transpired through the decades to this record. So, it is immediately familiar but absolutely fresh and original. Taken as a whole, listening to this album is like taking a stroll through someone else's dreams. The soundscapes are lush, propelled by forward by rich jangling guitars, shimmering pianos and vibrant melodies.
At times the music can even be spacey, sensual, and downright sexy. I don't' understand the lyrics, but watching the visuals of "Dans le vague" was pretty titillating stuff. Yet it's all clean and classy.  The only word that I think really captures the essence of this album is "Beautiful".
Very rarely does one come across a collection of tracks so listenable, so delectable, so pleasing, that it simply occupies and becomes a part of the space that is your media player, whatever or wherever that may be.
From beginning to end, listeners will be amazed by the richness of the vocals and instrumentals on "Le chant des sirens". Each song is finely crafted, well performed and well produced by. The vocals are crystal clear, always on pitch and memorable, while the lyrics sound luxurious and very sexy…simply because it's French and I don't understand a single word.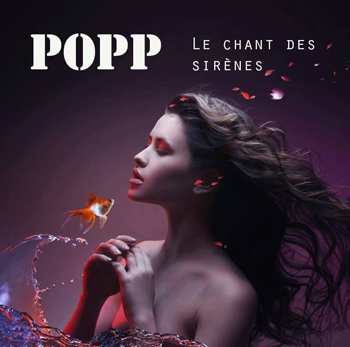 Ben Popp could be singing about the Third World War, and I wouldn't know because it all sounds so sensual to me.
The instrumentals alone will bring you into a whole other stratosphere. Listen to it while you commute, listen to it after dinner, listen to it with a good book, it somehow seems perfect for any situation and will never fail to stir something inside of you.
I can't think of another pop-rock record that comes remotely close to what Ben Popp is doing here. Have you heard another whistle-along song like "Big Brother" on the charts? Or maybe a groove-driven electric-piano rhythm like on "Femme objet", and even an acoustic piano dominated track such as "Habillé pour l'hiver"? No,  I don't think so.
The songs are varied and complex enough that you will never get tired of it, even after dozens of listens. Because of this it works as well on headphones or in the background through speakers. Currently my favorite tracks are the title track "Le chant des sirens", the edgy rocker "Pas un caïd" and the melodic slow burner which closes the album, "Trop vieux pour devenir adulte maintenant".
This is the type of album to vibe to when you want music, but just don't know which music you want to listen to at any given moment. This will satisfy that indiscriminate melodic sweet tooth just in time.
OFFICIAL LINKS: WEBSITE
Please follow and like us: